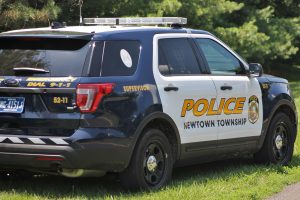 January 11
Fraud
Just before 12:15 p.m., a Newtown Township resident contacted police to report fraudulent activity on her husband's debit card. Investigation is ongoing at this time.
Retail Theft
Shortly after 4:45 p.m., patrols were dispatched to Acme Markets for the report of a retail theft that occurred a week prior. Upon arrival, police spoke to the reporting party who stated that she was just made aware of the theft that involved individuals loading up a shopping cart with several items and then pushing the cart out of the store without paying for the items. No leads at this time.
Theft
At 5:30 p.m., a complainant responded to headquarters to report that the Christmas decorations at his son's grave site in St. Andrew Cemetery were vandalized. The complainant explained that the LED tree lights he placed on a tree near his son's grave were damaged and that their power sources had been cut. The light sets were valued at $120.
Disorderly Conduct
While on patrol around 9:45 pm, an officer observed a suspicious occupied vehicle parked in Helen Randle Park. Upon contact with the three occupants, the officer detected an odor of marijuana emanating from inside the vehicle. A search of the vehicle was performed, and a small amount of suspected marijuana was found. A citation for Disorderly Conduct was issued as a result.
January 13
Criminal Mischief
Police were dispatched to a business located along Newtown-Yardley Road at approximately 2:30 a.m. for the report of criminal mischief to vehicles in the parking lot. Upon arrival, police also discovered that the criminal mischief was in addition to theft from the vehicles. The investigation is ongoing at this time.
January 15
Scam
Around 10 a.m., a Wrightstown Township resident contacted police to report a phone scam. The complainant explained that someone had called her and claimed to be with PECO. The caller stated that if she did not pay them in 45 minutes that they would shut off her electric. The complainant recognized this as a scam and hung up immediately in order to verify with PECO directly. PECO advised the complainant that they have received similar complaints from the Newtown area and that it was indeed a scam.