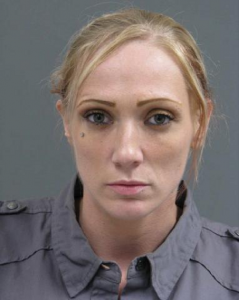 A 34-year-old mother was convicted Friday evening for the murder of her on-and-off-again 64-year-old boyfriend inside his Upper Makefield home along the Delaware River.
The jury came back around 7 p.m. after 10 hours of deliberations and found Jennifer Lynn Morrissey guilty of first-degree homicide. Sentencing in the trial has been deferred and Morrissey will remain in the Bucks County Correctional Facility, according to the Bucks County District Attorney's Office.
During the week-long trial, the prosecution made the case that Morrissey killed pharmaceutical sales manager Michael McNew inside his home with a single bullet between the eyes at point-blank range while he slept in his chair. They also said the August 2017 killing was made to look like a botched robbery.
At opening statements last Friday, S. Philip Steinberg, Morrissey's defense attorney, told jurors that McNew manipulated his client and that his death at Morrissey's hands was self defense.
Morrissey, a motorcycle mechanic who worked in Middletown, had other relationships over the five years she dated McNew and had a drug habit, according to testimony and court papers.
McNew and Morrissey met while she was working as a stripper at a club in Bristol Township. McNew helped Morrissey pay bills and court fees from previous cases, causing Morrissey to be called the 64-year-old man's "sugar daddy." The couple's on-and-off-again relationship lasted five years and progressed to Morrissey and her elementary school-aged son living at McNew's 2,700-square-foot home at 1050 River Road in the Washington Crossing section of Upper Makefield.
Philly.com reported that Morrissey took the stand on Thursday and tearfully testified that she shot McNew as an "accident."
"He put his faith in her, and she put a bullet in his head," Deputy District Attorney Christopher Rees said, according to the article.
Prosecutors made the case that Morrissey returned to McNew's home with a friend of her motorcycle gang-affiliated boyfriend "Ruthless" and attempted to stage the 64-year-old man's death as a failed robbery, The Intelligencer reported.
During the trial, numerous people testified, including jailhouse informants who spoke of comments that Morrissey made while behind bars following McNew's death.
Mary Ann Shockley, a sales manager who worked at the same company as McNew, and her adult daughter Amber testified during that trial that the two found McNew dead in a chair at his home after checking on him following concern management did not hear from him for two days.
Two medics said they were summoned to the home by dispatchers and found McNew sitting upright in his chair with dried blood on his face and on the floor below. Along with the Shockleys, the medics testified that McNew's pockets were turned inside out of his pants, but nothing else in the art-filled home appeared disturbed.
The trial made mention of texts sent between Morrissey and McNew before his death. Morrissey threatened to "gut you like I'm field dressing a f**king deer" in one of the messages.
Following the shooting, Morrissey allegedly texted McNew's phone about a scheduled doctor's appointment to buoy her potential alibi, according to prosecutors.
McNew was divorced and had two adult children.