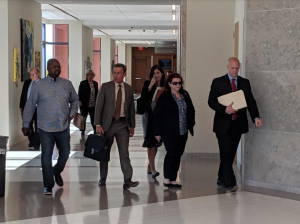 Within the next few weeks, Bucks County Judge Jeffrey Finley will decide whether to allow a recording of Sean Kratz confessing details about the July 2017 killings of three young men to be played at trial.
During day two of pretrial hearings at the Bucks County Justice Center in Doylestown on Tuesday, Finley asked the defense and prosecution to submit written facts and arguments by the end of next week as to their view on having the April 24, 2018 confession tape played for jurors in a trial. The judge will then issue his decision.
Prosecutors wanted the 22-year-old Philadelphia defendant's previous attorney Craig Penglase to testify during the pretrial hearing on the April 24, 2018 meeting between Kratz, defense team investigator and retired attorney Michael Goodwin, and the defendant's mother Vanessa Amodei. They stated in court that the questions asked of Penglase would be limited in scope and relate to non-privileged conversations.
The prosecutors idea what that Penglase could testify on what he relayed to his then-client.
Charles Peruto Jr., Kratz's lead attorney, made the case that the recording should be tossed because Penglase allegedly misled Kratz.
Penglase was booted from the high-profile case last year after admitting to leaking a confession tape of Cosmo DiNardo, 22, of Bensalem, that was aired on TV after Kratz rejected a negotiated deal that would have sent him to state prison for 59 to 118 years. After 59 years, Kratz would have been eligible for parole.
Penglase's attorneys made arguments on Monday and Tuesday that their client should not testify. Attorney Marc Steinberg, who is representing Penglase, attempted to get the proceedings held in secret, citing professional conduct rules relating to attorneys.
Members of the media, including NewtownPANow.com, formally objected to the request to close the courtroom to the public on Monday. An attorney representing the media's interest in public access was present on Tuesday.
Finley quashed the subpoena for Penglase, who sat in the hallway not far from the courtroom, and did not require him to testify.
Amodei, Kratz's mother, did take the stand Tuesday and said Penglase did not fully represent the deal offered by prosecutors last spring and the implications of the taped confession. She also accused him of being a liar.
First Assistant District Attorney Gregg Shore asked Amodei about inconsistencies in statements she made in court and in a brief recorded phone conversation with the Bucks County District Attorney's Office on Monday.
"I'm not a liar, and I'm not here to lie about anything," she firmly said.
Peruto said on Monday that Penglase was motivated by an attempt to make a name for himself.
Prosecutors did note at Tuesday's pretrial hearing that Cosmo DiNardo, who is serving four life sentences as part of a plea deal, could testify at a trial. They also added that they would let the defense know in advance if they planned for that to happen.
Several other motions were either rejected or agreements were made during the two-day pretrial hearing.
No trial date has been set.
Kratz is accused in the killings of Dean Finocchiaro, 19, of Middletown; Thomas Meo, 21, of Plumstead Township; and Mark Sturgis, 22, of Pennsburg, Montgomery County. DiNardo also took part in all three deaths and the murder of Jimi Patrick, 19, of Newtown Township, at his family's farm in Solebury.