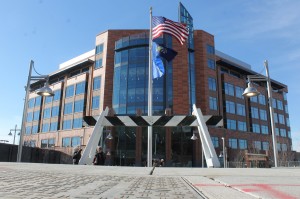 A number of news organizations objected Monday to a request to hold testimony by accused killer Sean Kratz's former attorney in secret.
The request came from attorney Marc Steinberg, who is representing Kratz's former counsel Craig Penglase, during a pre-trial hearing for the 22-year-old Philadelphia man accused in the summer 2017 killings of Dean Finocchiaro, 19, of Middletown; Thomas Meo, 21, of Plumstead Township; and Mark Sturgis, 22, of Pennsburg, Montgomery County.
Prosecutors from the Bucks County District Attorney's Office were attempting to get Penglase, who was ordered off the case after he leaked a confession tape of Cosmo DiNardo, 22, of Bensalem, to NBC 10, to potentially testify during the pre-trial hearing. He was being considered to testify on a discussion Kratz had and whether it was protected by attorney-client privilege.
Steinberg cited the "rules of professional" conduct in making an argument to Bucks County Judge Jeffrey Finley that the public, victims' families, and the media should be cleared from the courtroom if Penglase were to testify. He said the rule he pointed to in court had only recently been brought to his attention.
Finley said the request was a "significant issue" and seemed hesitant to clear the courtroom.
NewtownPANow.com joined with KYW Newsradio, NBC 10, the Philadelphia Inquirer, WFMZ-TV, and other news organizations to object to clearing the courtroom and holding any testimony by Penglase in secret.
The attorneys and prosecutors met with the judge to discuss the issue during a recess.
Finley returned for an afternoon session and said he "strongly believed in the right of the press" and stated any argument Steinberg brought before the court Tuesday morning must be "dead on point."
Charles Peruto Jr., one of Kratz's attorneys, told the judge Kratz's mother would be available to testify if needed on Tuesday.
First Assistant District Attorney Gregg Shore said in court that the prosecution had roughly 10,000 pieces of photographic evidence. Peruto said he did not want photos showing the victims' bodies shown during a trial.
Kratz's surprise decision to turn down the Bucks County District Attorney's Office's negotiated plea deal last May led to the point where the case stood as of Monday. The decision last year provided a dramatic shock to Kratz's attorneys and prosecutors. The deal from last spring would have seen Kratz in state prison for 59 to 118 years. After 59 years, he would have been eligible for parole.
DiNardo, Kratz's cousin, was involved in the deaths of the three young men and Jimi Patrick, 19, of Newtown Township. In May, he was sentenced to four consecutive life terms in prison.