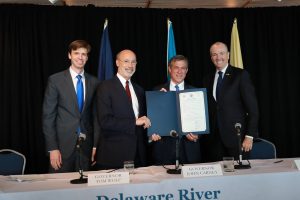 The governors of Delaware, New Jersey and Pennsylvania affirmed their commitment to protect the Delaware River watershed.
Delaware Gov. John Carney, New Jersey Gov. Phil Murphy, and Pennsylvania Gov. Tom Wolf met in Philadelphia on Thursday as part of a forum on challenges and opportunities for the 300-mile-long Delaware River and its 13,500-acre watershed, which includes all of Bucks County.
The river and watershed provide major economic, recreational, wildlife habitat and water resources for the region. Much of Lower Bucks County's drinking water comes from the Delaware River.
Officials said that the river is responsible for more than a half-million jobs and supports a $22 billion economy.
"The Delaware River is a great resource for recreation, an economic engine for the eastern part of our state, and a vital drinking water source for millions of Pennsylvanians," Wolf said in a statement. "We're proud of the work we've done to clean up our waterways and look forward to working with our neighboring states to continue our progress."
"The Delaware River Basin is not only the cradle of American democracy, it's an economic engine for our region and provides drinking water for nearly 15 million people. In the face of escalating climate impacts and the Trump Administration's rollback of basic clean water protections, collaborative, cross-state solutions are needed more now than ever to grow our economy, ensure clean drinking water, recover fish and wildlife populations, expand outdoor recreation opportunities and improve our resilience to climate impacts," Collin O'Mara, president and CEO of the National Wildlife Federation, said in a statement. "We commend Governors Carney, Murphy and Wolf for committing to work together on making the restoration of the magnificent Delaware River Watershed a national model."