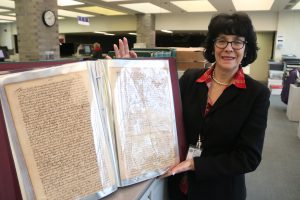 A number of Bucks County's historic deed books will be continuing their public tour this weekend.
Bucks County Recorder of Deeds Robin Robinson will take part in the opening of an exhibit at the Visit Bucks County Visitor Center at 3207 Street Road by Parx Casino in Bensalem. The 2 p.m. event will feature Robinson talking about how the aging deed books were preserved and how the process worked.
The visitor center will keep an ongoing display of 36 of the deed books.
The county's deed books date from the late 1600s to the last decades of the 20th Century. They include historical figures and cover the sale of slaves and notable properties.
Deed books are also on display at the Margaret R. Grundy Memorial Library in Bristol Borough through the end of May. More books will be on display at the David Library of the American Revolution in Upper Makefield from June 4 through June 8 before a ticketed event at the Mercer Museum in Doylestown.