By Dave Lemery | The Center Square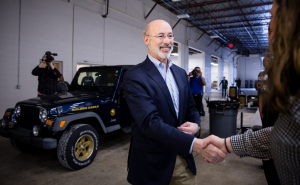 The administration of Pennsylvania Gov. Tom Wolf is under investigation by federal authorities over the process that led to the issuing of permits for the Mariner East pipeline project, The Associated Press reported.
According to the AP, citing three sources with knowledge of the FBI's investigation, the corruption probe is looking into whether Wolf, a second-term Democrat, or anyone in his administration used political pressure to override the concerns of the state's environmental agency and get the permits issued.
The FBI is also looking into whether Wolf or anyone in his administration received anything in return for getting the pipeline approved, the AP reported.
The pipeline in question transports natural gas in liquid across the state. Some environmentalists and a number of Democratic lawmakers, including state Sen. Andy Dinniman, have argued that the companies behind the pipeline have done shoddy work, polluting waterways and damaging home values in the areas where the pipelines travel through, and that the permits should not have been issued.
Wolf has thus far opted not to comment on the news of the investigation.
"From the very beginning and many times along the way, we have raised serious questions about the permitting process of the Mariner East pipeline project," Dinniman said in a statement in response to word of the FBI probe. "I hope that this development sheds a bright light on those questions and more."
While national Democrats, including U.S. Sens. Bernie Sanders and Elizabeth Warren, have come out strongly against hydraulic fracturing, or "fracking," in their presidential campaigns, Wolf has instead banked on the practice as a source of revenue for the state. Given Pennsylvania's status as one of the top natural-gas producing states, Wolf has repeatedly proposed the introduction of a severance tax on natural gas production.
After years of budget negotiations with the Republican-controlled Legislature failed to produce an agreement on a severance tax – which would sit on top of the existing impact fee that produces hundreds of millions of dollars in revenue for the state each year – Wolf this year proposed a package of infrastructure projects under the "Restore Pennsylvania" umbrella. The projects would be funded by issuing $4.5 billion in bonds and then paying off those bonds with the proceeds of a severance tax.