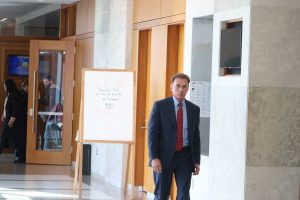 The jury in the Sean Kratz case has been deliberating for more than 14 hours as of Thursday evening.
Around 5 p.m., Bucks County Jeffrey Finley said that the jurors were going to take a break for the night and would resume deliberations Friday morning.
Philadelphia Inquirer reporter Vinny Vella tweeted that a man walked up to Kratz at the end of the day in court and told him "you're going to burn in hell."
A LevittownNow.com reporter spotted the man after the incident speaking with a number of sheriff's deputies in the lobby of the Bucks County Justice Center.
A source said the man was related to one of the victims.
Kratz's family and the large group of the victims' family members waited in the Justice Center throughout Thursday to see if there was a verdict.
On Thursday morning, the jury reviewed a video Kratz speaking with detectives as part of a previous plea deal that fell apart.
Kratz's trial closed Tuesday. It began last Wednesday morning.
Local and national media have been covering the trial since last week.
Prosecutors said that Kratz shot Dean Finocchiaro, 19, of Middletown, in the head in July 2017. He also is accused of being a lookout while his cousin, Cosmo DiNardo, 22, of Bensalem, murdered Thomas Meo, 21, of Plumstead Township, and Mark Sturgis, 22, of Pennsburg, Montgomery County, killed those men and later buried the bodies.
Kratz's high-profile attorney Charles Peruto said DiNardo would have killed the young men either way.
Kratz previously said no to a 2018 plea deal that would have locked him up for 59 to 118 years. DiNardo took a different route and pleaded guilty to the murders of Finocchiaro, Meo, Sturgis, and Jimi Patrick, 19, of Newtown Township, last year. He ended up with four life sentences.
Previous coverage of Sean Kratz's trial: