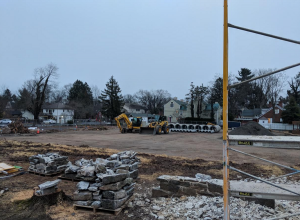 Construction on the new two-story parking garage near the Administration Building has begun.
Crews have been busy clearing the standing parking lot, which is often referred to as the "VIP Lot," to make way for the new parking garage. Initial work that took place was to clear trees and move utilities.
The new garage will feature 153 parking spots in the two-story structure at Court and Broad streets. The previous ground-level parking area only held about 70 vehicles.
Officials said the new garage is expected to open by February 2020.
The Bucks County Commissioners recently approved a $4.9 million contact with York County-based Lobar Inc. for demolition and construction of the parking garage and a $681,400 contract with California-based U.S. Solutions Inc. for electrical work on the new parking structure.
A rock wall art installation at the corner of Broad and Court streets was removed and preserved for later use in the borough, county officials said. Bucks County General Services Director Kevin Spencer said a plaque that was on the art installation will be placed on the new garage's new stairwell.
The VIP lot had previously been used by county judges and top officials before the Bucks County Justice Center opened in 2015. The new Justice Center features parking for top leaders, including secured indoor parking for some officials.
The county in recent years has ended leases and sold off buildings as it consolidated many departments to the Bucks County Administration Building and the former courthouse. The consolidation of offices have led to more staff working from the heart of Doylestown.
County officials have previously stated the new garage will be open to the public outside of business hours.
The Court and Broad streets site was the former home to the old Doylestown Public School until a massive fire in 1973 forced the demolition of the building. The county purchased the old school in 1966 and it was being used as offices at the time of the blaze.
Right down the street from the new garage is the roughly 10-year-old, four-level parking structure next to the Justice Center. The more-than-1,000-spot garage replaced an older one and cost the county around $20 million.