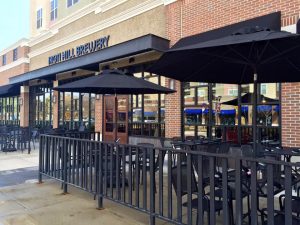 Newtown Township granted conditional use approval for Iron Hill Brewery to come to the redeveloped Village at Newtown Shopping Center on Eagle Road.
The Delaware-based brewery and restaurant chain that opened their first location in 1996 gained the approval in a 4-0 vote Wednesday evening. Supervisor Kyle Davis was not in attendance.
The company is seeking to open a 7,500-square-foot, 260-seat restaurant that brews its own beer onsite next to the recently-approved Chipotle Mexican Grill near a public space and amphitheater that will be built as part of the shopping center redevelopment just off Durham Road in the area of the current Bank of America branch. A 100-seat outdoor seating area surrounded by a decorative 3-foot-tall wrought iron fence has also been proposed.
Joe Blackburn, the attorney representing Iron Hill Brewery, said the Zoning Hearing Board permitted 1,000 square feet of the building for the brewing of beer.
There was some concern as to the noise that an outdoor seating area could cause.
After a discussion, it was determined that the Iron Hill Brewery will not have speakers on its outdoor seating area, and it will include noise-buffering measures.
Blackburn told Supervisors that Iron Hill Brewery is more a restaurant with beer than a bar.
The Iron Hill Brewery will become the township's second craft beer producer. Newtown Brewing Company is preparing to open their 70-seat brewery later this year.