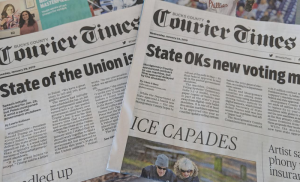 Another round of cuts have cost more local jobs at the Bucks County Courier Times and Doylestown Intelligencer.
Gatehouse Media, the second largest newspaper chain in the country, late last week slashed staff at numerous newspapers across the country. At the Bucks County Courier Times and Intelligencer joint newsroom in Middletown, LevittownNow.com was able to confirm through sources that at least three people lost their jobs, but a spreadsheet of company layoffs circulated among the journalism world listed four positions lost. The jobs lost reportedly included: a news assistant, a sports assistant, and two content editors.
The company did not confirm the number of cuts locally or nationally, but it was rumored that about 200 jobs nationwide will be impacted. Some additional layoffs are expected at newspapers with a unionized staff.
Mike Reed, the CEO of the holding company that oversees Gatehouse Media, told Business Insider following the cuts that they were "immaterial." In a later memo to employees, he backtracked and said that all employees matter, and the cuts were needed to provide a "better path" forward.
Since Gatehouse Media purchased the Bucks County Courier Times, Intelligencer, and Burlington County (New Jersey) Times in summer 2017, the headcount at the two publications has been reduced by more than 70 percent. Sources at the newspapers said last year they were told by management that the publications remained profitable despite regular cuts.
Following the most recent cuts, Gatehouse Media leaders told employees via a memo that they are creating a group of 30 reporters and editors among its hundreds of publications to grow a national reporting team.
The recent cuts and internal changes to the news organizations have been framed as being part of a company-wide "restructuring."
"The expectation is that these local and regional teams will enable broader collaboration with concentrated resources, the ability to quickly change focus as interests and priorities change, and a continued focus on high-impact journalism," said Shane Fitzgerald, the executive editor for Gatehouse Media publications in Delaware, Pennsylvania, and New Jersey.
Fitzgerald said the restructuring came after two years of research by Gatehouse Media's national management team.
While Gatehouse Media ended last year with a $18.2 million profit on $1.5 billion in revenues, it reported during its first quarter 2019 earnings call that the company lost millions of dollars in the first months of the year. The loss was blamed on short-term actions intended to grow profits long term, citing diminishing print and advertising revenues.
Gatehouse Media, which has doubled the number of publications it owns since emerging from bankruptcy in 2013, hinted to cuts and mentioned centralization of services during an earnings call earlier this month.
"We are investing in our technology and centralized infrastructure, to further streamline the business and maximize synergies across our broad portfolio. This will result in more cost reduction opportunity throughout 2019," said Reed, the CEO of Gatehouse Media's holding company owner that is under the control of Japan-based Softbank.
Rounds of cuts that have impacted the Bucks County Courier Times and Intelligencer since the Calkins family sold them in 2017 have often been followed by centralization among Gatehouse Media's publications. One of the largest cases is when the daily design of the newspapers was outsourced to Texas and customer service positions were sent to other out-of-state offices.
In cuts earlier this year, Gatehouse Media laid off the entire remaining award-winning photography and video staff at the local newspapers. A total of about 15 employees lost their jobs in those cuts.
Gatehouse Media has affiliated companies that makes money through commercial printing contracts, events, and small business services. While newspaper income has not seen significant growth, those revenue streams have increased significantly.
Under Gatehouse Media, the Intelligencer staff moved out of their building near the heart of Doylestown Borough and the Bucks County Courier Times have put their former aging headquarters along Route 13 in Tullytown Borough up for sale. The two newspapers have combined their operations on the fifth floor of the One Oxford Valley office building in Middletown. They operate a large printing facility in Falls Township and a small distribution warehouse north of Doylestown.
Despite the near-constant belt-tightening and shrinking newspapers, reporters at the Bucks County Courier Times, Doylestown Intelligencer, and Burlington County Times have continued to win awards for their journalism, including accolades this spring.
With the restructuring, Fitzgerald said one of the goals the newspapers will be undertaking is to "define priority audiences and content coverage areas."
"Changes were made company-wide to support this model. We are dedicating as many resources as possible to produce impactful local journalism," he said.
The recent cuts at Gatehouse Media mark a grim year in digital and print journalism. Close to 3,000 jobs have been lost at publications in America and Canada, according to Business Insider.
Just last week, the Reading Eagle in Berks County was sold after suffering significant financial losses and job cuts expected. The Philadelphia Inquirer, which is owned by the Philadelphia-based nonprofit Lenfest Institute, announced they would begin offering a buyout to cut costs.