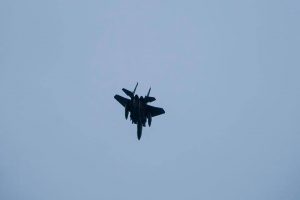 The afternoon sky above Lower Bucks County rumbled as four F-15 Strike Eagles passed over multiple times.
The U.S. Air Force fighter jets roared over during multiple passes as they awaited to fly over Lincoln Financial Field in Philadelphia Sunday afternoon during the National Anthem.
From Tyler State Park in Newtown Township to Bristol Township, the jets were spotted above and their duel Pratt and Whitney engines could be heard as they whizzed by overhead.
"We heard them inside the market everyone was freaking out," LevittownNow.com reader Sharell Shelton said.
"Heard them extremely loud in Newtown – Bucks County! Actually scary!" Diane Krusen commented on NewtownPANow.com's Facebook page.
Air Force Captain Sean Lipkin was in one of the planes above the area. He is set to speak with JROTC students at Pennsbury High School on Monday, his proud uncle and aunt, Dr. Michael and Marla Lipkin, said.
The four jets were spotted passing over Lower Bucks County on Friday in preparation for Sunday.