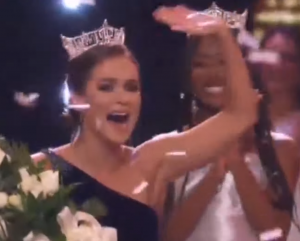 A Newtown native is Miss America for 2020.
Biochemist Camille Schrier, 24, who has resided in Virginia since 2015, was crowned Miss America Thursday night during the nationally-televised pageant at Mohegan Sun Casino and in Connecticut.
Aside from the pomp of the ceremony and title, Schrier will win a $50,000 scholarship and have a platform to promote a social impact initiative of "minding your meds" and getting naloxone into every single person's hands.
During an interview portion of the broadcast, Schrier was not afraid to talk about dealing with an an eating disorder and obsessive-compulsive disorder. She also talked about her role as an ambassador of her social impact initiative and for science.
For her talent, Schrier performed a colorful science experiment on stage and told the crowd that "science really is all around us."
The broadcast on NBC showed a stunned Schrier accepting the crown during the competition.
Schrier is the among the first Miss Americas named under the New Jersey-based organization's 2.0 initiative. The changes mean no more swimsuit and evening gown competition and the talent portion of the contest has been expanded. The change also has renamed those competing for the title from "contestants" to "candidates."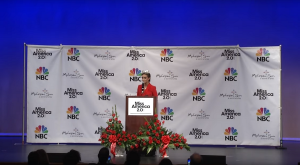 "If I had ever danced or sang on the Miss America stage, I would never had been standing here," Schrier said during a post-event press conference.
Schrier said the changes to the Miss America competition pushed her to take part in it.
"I'm not a beauty queen. I am really a brand ambassador for this organization. I'm more than someone with a crown on their head," she told reporters.
The new Miss America applauded that the Miss America Organization's refresh that kept tradition while modernizing.
Schrier said she has always had an interest in science, including during her time growing up in Newtown. She applauded her teachers who encouraged her over the years.
Pursuing her doctoral degree, Schrier said her prize money will help pay those bills.
In 2019, Schrier, who was Miss Virginia, took a year off from her studies and plans to take 2020 off to honor her Miss America responsibilities.
Schrier will succeed 2019 Miss America Nia Franklin, a New York resident who is a composer.