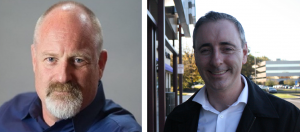 Less than a full month into 2020, and the First Congressional District Republican primary race is already hitting a fever pitch.
Over the weekend, incumbent Republican Congressman Brian Fitzpatrick's campaign Youtube channel published an unlisted video attacking primary opponent Andrew Meehan.
The ad is second attack video from Fitzpatrick's campaign inthe local congressional race, but is surely not the last. In the ad, the Fitzpatrick campaign points to a 2007 incident where Meehan was convicted of a DUI offense following a crash in Middletown. The ad identifies the primary challenger as "Convicted Criminal Andy Meehan," noting Meehan's 2007 guilty plea.
Although Pennsylvania's public judicial records website shows no record of Meehan's conviction, LevittownNow.com confirmed through a 2007 news clipping obtained through a research database that Meehan, a Northampton resident who was living in Levittown at the time, pleaded guilty to DUI with blood alcohol concentration of .10 to .16 percent and related summary offenses. He was sentenced to 48 hours in prison and ordered to pay a fine.
Meehan's campaign confirmed the conviction.
"Thirteen years ago, I made a mistake in driving home from my local bar in the snow. I had a low-speed collision with another car that was parked at a traffic light which caused minor damage. I then pulled over into a parking lot, waited for police, and told them I was drinking. I was convicted, served a forty-eight-hour sentence in Bucks County Prison and a suspension of my license, and paid some steep fines. I greatly regret that incident and have not had any other like it before or since," Meehan said in an written statement.
An unlisted video is a type of private video that anyone can view if they have the direct link to the content. These videos don't show up in searches or any other public spaces on the website, but are used from time to time to circulate campaign ads or videos.
Meehan's campaign called the ad a distraction from the important issues local voters care about.
"If Fitzpatrick cared about drunk driving deaths, he would fight against the epidemic of Americans killed every year by drunk driving illegal aliens. However, Fitzpatrick perpetuates the problem by opposing funding to secure our southern border … and by supporting federal funding for so-called 'sanctuary cities' that set criminal aliens free to commit more crimes," said Chris Sofield, campaign manager for Andy Meehan for Congress.
In his response, Meehan brought up Sis Davis, a 79-year-old grandmother, who was struck and killed by a drunk-driving undocumented immigrant in a November 2018 crash in Warrington. The driver already had multiple DUIs when the crash occurred. Davis' family recently endorsed Meehan in the race.
Fitzpatrick's campaign responded to the statement from Meehan.
"It is nothing short of pathetic for Andy Meehan to distract from his long history of reckless behavior and his serious lack of judgement. His decision to selfishly drink and drive, endangering countless lives, is appalling and is just one of many instances of him showing a complete disregard for the people in our community," said Kate Constantini, campaign communications director, Brian Fitzpatrick for Congress.
In the first campaign ad, the Fitzpatrick campaign accuses Meehan of hurting the party in national races.
Editor's Note: Publisher/Editor Tom Sofield's father, Chris, is Meehan's campaign manager.