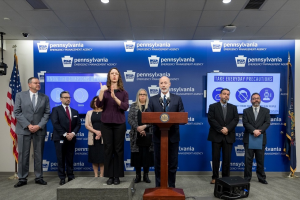 Government agencies and schools across the state and in Bucks County are stepping up efforts after the worldwide impact of the novel coronavirus has grown.
On Friday morning, the Central Bucks School District closed five schools after staff and students were discovered to have recently made contact with an out-of-state-person who was later confirmed to have the coronavirus, officially named COVID-19.
No one in Bucks County has been confirmed to have COVID-19 as of Friday at noon.
The school closure was precautionary, county health officials said.
"Late last night, I was informed by Dr. David Damsker, Director of the Bucks County Health Department, and Dr. Sharon Watkins, State Epidemiologist of the Pennsylvania Department of Health, that members of the Central Bucks community were exposed to a confirmed case of the coronavirus that originated in another state," Central Bucks School District Superintendent John J. Kopicki said in a letter to parents.
Staff from the county health department, which has prepared for weeks for COVID-19, will spend Friday contacting those who attended the private gathering where the out-of-state person who was later diagnosed attended. Health workers will check those who attended for symptoms of illness and those who have symptoms associated with the coronavirus will be tested.
During a Friday morning press conference at the Pennsylvania Emergency Management Agency headquarters near Harrisburg, Gov. Tom Wolf announced there were two "presumed positive" cases of COVID-19, in Delaware County and Wayne County.
The case still need to be confirmed by the Centers for Disease Control and Prevention (CDC), Wolf said. The affected people, who are adults, have been quarantined in their homes.
"We all should remain calm here," Wolf said, adding that the state Department of Health is leading the state's efforts. "I can assure you that our state government will continue to function smoothly."
Health Secretary Dr. Rachel Levine said the cases were not transmitted in the community, but were from travel.
Late Friday morning, Wolf signed an emergency declaration to provide increased support to state agencies involved in the response to the virus.
"We want people in Bucks County to be aware of the situation, but not panicked," said Dr. David Damsker, director of the Bucks County Health Department. "We want our residents to continue taking all of the common-sense approaches that we take with influenza, with respect to handwashing often, not touching your face, avoiding sick people and not going to work when sick. Please perform these steps both at home and at work."
The county put out information about preventive steps:
Frequent hand-washing with soap and warm water for at least 20 seconds
Avoiding close contact (within six feet) with people who are sick
Avoiding touching one's eyes, nose and mouth
Staying home when sick
Covering one's coughs or sneezes with a tissue and throwing the tissue in the trash
Cleaning and disinfecting frequently touched objects and surfaces with household cleaning sprays or wipes
Wearing face masks during one's daily routine is not recommended by the CDC as an effective preventive measure against COVID-19 and other respiratory diseases. However, people with symptoms of COVID-19, health workers and people who are taking care of an ill person in close settings should wear face masks.

The incubation period for a person exposed to COVID-19 – the time between exposure and first appearance of symptoms – is between two and 14 days. Those who have been in contact with a person known to have COVID-19, or those who have traveled recently to areas such as China where there have been outbreaks, are asked to self-quarantine themselves for 14 days from the time of potential exposure.
For weeks, the county has been receiving a daily list from the CDC via the Pennsylvania Department of Health of local who have returned from China, and of that group, who has also visited Hubei Province, home of Wuhan, Central China's most populous city and the epicenter of the COVID-19. The county has asked those residents to stay home and avoid public activities for 14 days.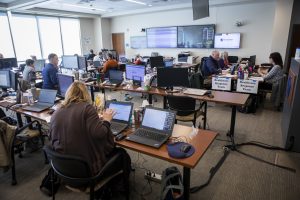 Officials announced earlier in the week that the state lab in Chester County is now testing COVID-19 samples. As of Friday, the lab can handle between 20 and 25 samples a day. By the weekend, the lab will be able to do 125 to 150 assessments a day, according to Levine, the health secretary for the state.
"County health officials are working with healthcare providers and PA DOH to determine on a case-by-case basis whether testing is appropriate. This is done in the interest of not depleting resources by testing every person who has a respiratory illness," Bucks County officials said in a statement.
County health officials said there are many details about COVID-19 that aren't clear yet, including the fatality rate. Some early information shows that the elderly and those with immunosuppressive conditions are at higher risk of severe illness.
Damsker said reports of fatality rates are most likely overestimates, adding that many of those infected have been asymptomatic or mild infections.
"While that is indeed good news, the other side of the coin is that the virus becomes easier to spread unnoticed in the community by these mildly symptomatic or asymptomatic people," Damsker said.
State and county health officials have been keeping tabs on COVID-19 for weeks.
Damsker said his staff have been paying attention since the first reports of a then-mystery virus came out of China in December. The county has been in "frequent contact" with state and federal health officials since January.
Earlier this week, 80 local officials gathered at the Bucks County Intermediate Unit in Doylestown Township to discuss COVID-19 and steps that were underway. The group included the Bucks County Health Department, Bucks County Emergency Services, all six Bucks County hospitals, all thirteen school districts and three technical high schools, Delaware Valley University, and Bucks County Community College.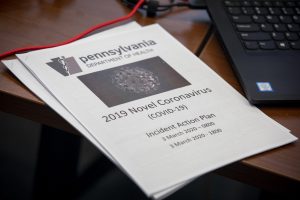 "As we are currently in our high-flu season, the Bucks IU and county schools already practice standard cleaning procedures each day, and the Bucks County Health Department offered assurances [this week] that those cleaning procedures will successfully kill the virus on contact surfaces," a statement from the intermediate unit said.
In the Council Rock School District, administrators have been meeting with local officials and cleaning practices will be increased, according to a letter sent home by Superintendent Dr. Robert Fraser.
Council Rock officials told parents they would keep them abreast if developments warranted.
Reporters Cynthia Fernandez and Sarah Anne Hughes of Spotlight PA and New Hope Free Press Publisher Charlie Sahner contributed to this report.