If you're practicing social distancing, feeling well, and not in a large group, you most likely won't have a problem in Bucks County during Gov. Tom Wolf's COVID-19 stay-at-home order, which runs into April.
During a Tuesday press briefing, county officials said they will be enforcing the governor's order but aren't looking to lock anyone up. However, they are hoping businesses follow the order and make sure that, if they are open, customers are social distancing.
"We understand people need to go to the gas station, the pharmacy, the grocery store, and to the doctor's office. If you don't need to go out to any of those essential, life-sustained services, then you should stay home, except maybe for a walk. We don't want people going out in groups," said Scott Forster, director of the Bucks County Emergency Management Agency.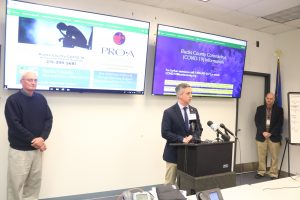 Bucks County Commissioner Bob Harvie said the enforcement is largely being left up to local law enforcement. He said the health department will be out and making sure licensed businesses that fall under its oversight are playing by the rules.
"We're hoping for progressive enforcement of this order," Harvie said.
The commissioner explained that police who see a group at a park or waiting outside a business for food would likely make sure they were practicing social distancing and urge them to move along.
The Pennsylvania State Police, which patrol several Levittown-area boroughs part-time and have oversight of liquor licenses, will also be enforcing the governor's order.
State police Troop M covers all of Bucks, Lehigh, and Northampton counties. On Monday, troopers only issued three warnings to businesses and zero citations, according to data released by the agency.
"As expected, we found the overwhelming majority of people and businesses across the commonwealth are voluntarily complying with the order and doing their part to stop the spread of COVID-19," said Colonel Robert Evanchick, commissioner of the Pennsylvania State Police.
Echoing Harvie's comments on progressive enforcement, Evanchick said troopers would be using warnings and then moving to more serious enforcement efforts "as necessary."
Harvie urged the public to "take this step seriously."
"We have to stay home as much as possible … we can not go out and do things as we normally do if we don't want this virus to spread," Bucks County Commissioner Gene DiGirolamo said.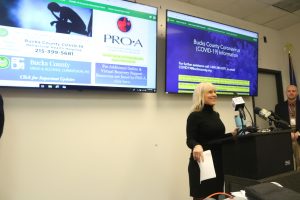 The county has blocked access to all its park facilities, marking a change from its previous posture, Bucks County Commissioner Chairperson Diane Ellis-Marseglia said.
Callers reporting businesses who may be breaking the governor's mitigation efforts have been asked to call the county's COVID-19 hot line at 1-800-383-0371 and not 9-1-1.
Forster, the county emergency management director, said 9-1-1 call volume is down and there are less traffic accidents being reported with more people staying inside. However, the ebb and flow and day-to-day life can always change that statistic.