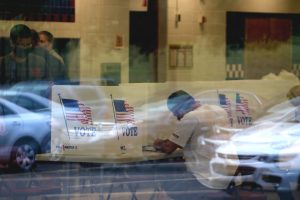 During a global pandemic, nationwide civil unrest, a new voting system, and a new law allowing widespread mail-in voting, Bucks County's primary election day was one for the books.
Results from the primary election continued to be counted Wednesday evening and complete unofficial results were not yet available, a change from past years. (Details on the delays are featured here)
At polling places, a number of voters across the county reported problems having their hand-filled-in paper ballots scanned for recording. The county called the problem "slight irregularities in the width of vendor-supplied paper ballots." Poll workers either trimmed a small amount from the ballot to have it fit in the scanner or sent the ballot up to the Board of Election's office in Doylestown Borough for recording on larger, high-speed scanners.
The problem was not at every polling place. At some polls, it impacted Democratic ballots or Republican ballots or ones from both parties.
County officials stressed that every vote was counted.
The ballots were sent to the county from Reliance Graphics, a printing vendor certified by voting system maker Clear Ballot, county spokesperson Larry King said.
Jack Armstrong, vice president of Reliance Graphics, said in a statement that the company "strives to be letter-perfect every election."
"Unfortunately because of the [COVID-19] quarantine we had to curtail some of those (quality) checks," Armstrong said. "We apologize to any voter who was inconvenienced, and to the staff of the County Board of Elections for any headaches we may have caused today."
Bucks County Commissioners Chairperson Diane Ellis-Marseglia said the problem could have been much worse and it will certainly not happen again during the November general election.
Commissioner Gene DiGirolamo said the buck stops with the commissioners and the mistake should not be a reflection on the hardworking Board of Elections staff.
Commissioner Bob Harvie said his ballot barely fit in the scanner at the polling place. Despite that hiccup, he praised the work of election workers – many working their first election – who made things go smoothly.
Aside from the issues related to the size of the ballots at some polls, more than a dozen voters queried by this news organization outside voting locations around the Levittown area had largely positive comments about the voting process.
"It went smooth," said voter Robin Laskey. "It was quick and easy."
Although she wasn't a fan of wearing a face mask, she said she did comply with the public health order to wear one.
In the future, Laskey said she supports voters having to present identification at polling places.
"It was okay until they had you hand [the poll worker] the ballot for scanning," said voter Lora Moscufo, noting the scanner worked on her ballot but it was "tedious."
One difference from years past was expanded mail-in voting. The county reported just over 102,200 requests for mail-in ballots that were fulfilled and about 72,000 were returned by voters as of Monday, with a county judge's decision allowing those already postmarked as of Monday to continue to be counted as long as they're received by next Tuesday.
To accept mail-in ballots, the county put guarded ballot collection boxes at county properties in Bristol Township, Doylestown Borough, and Richland Township. On election day and days leading up, voters came to the box to drop their ballot.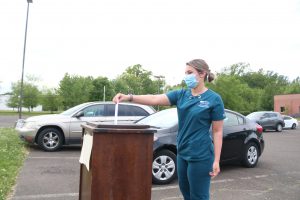 On election day, a steady stream of voters came up to the box to deposit their ballot outside the county building near the library in Bristol Township's Levittown section.
"It was easy to have to bring it here," voter Deb Kudenchak, a nurse, said after she dropped her ballot.
Voter Joan Graves, who was on the ballot for Republican committee person in Falls Township, dropped off her ballot and said she enjoyed how easy the process was.
DiGirolamo, one of the three county commissioners, said he hopes that lawmakers in Harrisburg adjust some election rules to make things run smoother. He suggested that allowing for early counting of mail-in ballots was one of his suggestions.
"We don't want to be the laughingstock of the country in Pennsylvania in a presidential election. It's very possible it might come down to Pennsylvania. If the whole country is waiting until Wednesday, Thursday, Friday, or later, that is completely unacceptable," he said.
All three commissioners heaped praise on the work of election officials in the county dealing with new systems, a changed state election law, the pandemic, and the influx of mail-in ballots.