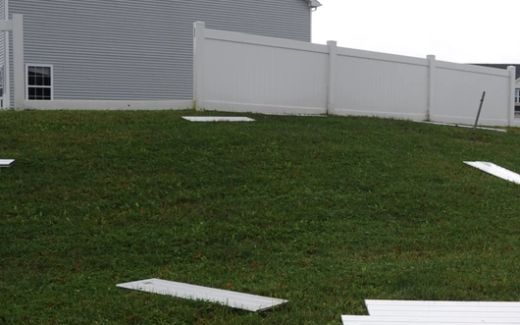 The National Weather Service confirmed that an EF-1 tornado went through the Newtown area Saturday night.
The National Weather Service's regional office investigated the storm damage in Newtown Borough, Newtown Township, and Wrightstown Township along with support from Newtown Fire Rescue, the Bucks County Emergency Management Agency, and Lou Ruh, according to a Monday statement.
The tornado developed in a line of strong storms as they moved through Bucks County just before 7 p.m.
In Wrightstown Township, the EF-1 tornado uprooted several trees as it traveled toward Newtown Township.
Tree damage was reported in neighborhoods along Swamp Road in Newtown Township. Damage was reported at the Bucks County Community College campus. At the Village of Newtown shopping center, the tornado caused a roof facade at the Harvest Seasonal Grill to collapse and fall on several cars.
As the tornado made its way into Newtown Borough, it continued knocking down trees and limbs before it lifted in the area of Newtown Cemetery.
The tornado traveled 3.9 miles and was 200 yards wide. The tornado was reported to have winds of 95 mph to 105 mph, according to the National Weather Service.
Newtown Fire Rescue Chief Glenn Forsyth said there were no injuries reported from the tornado.
Newtown Township police said Swamp Road between Helen Randle Park and Liberty Drive was closed through Sunday evening due to storm damage.
The storm and tornado left more than 3,000 PECO customers without service on Saturday night in the Newtown area, but nearly all customers had service returned by Monday morning.
The storm system traveled and caused damage in other parts of Lower Bucks County, including in Falls Township.
The Newtown-area tornado was one of six Saturday night twisters confirmed in the Philadelphia region as of Monday morning. Three other possible twisters in New Jersey were still under investigation.
Tornadoes aren't very common in the area, but they also aren't unheard of in Bucks County. A series of tornados caused damage in the lower and central parts of the county over the past few years.