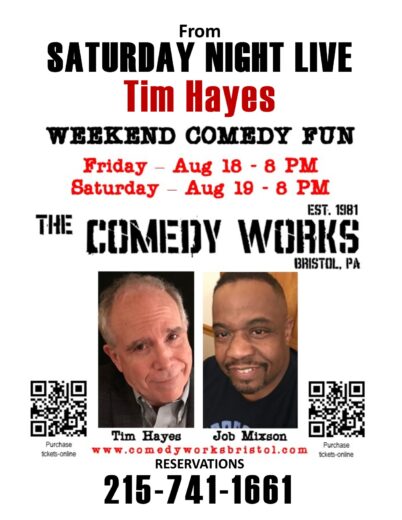 The Comedy Works Bristol (located inside Georgine's Restaurant, 1320 Newport Rd., Bristol, Pa) presents Weekend Comedy Shows on Friday, August 18 and Saturday, August 19, 2023. Both shows start at 8 PM. The show will headline Comedian, Actor & writer Tim Hayes in an exclusive Comedy event with Job Mixson.
Tim's most recent TV appearance came last year on a Saturday Night Live sketch, "Please Don't Destroy."-Future Selves where he played a man who comes back from the future to warn himself of the impeding danger of Climate Change.
Tim Hayes is brimming with likeability and drawing from his own experiences as a husky youth, athlete, chiropractor, actor, father of two and ex-husband of one, he describes stories of everyday life in a quick witted and hysterical fashion.
Tim has a passion to be a Comedian who challenges himself when it comes to Comedy and life as a retired Chiropractor. He is finally pursuing one of his lifelong dreams to be an Actor, Comedian and living in his sister's basement after divorce.
Tim performs all over the country and at the Borgata Comedy Club, Golden Nugget and Tropicana Comedy Stop in Atlantic City.
Tim has also appeared at several of the top Comedy Clubs in New York City including Gotham Comedy Club, Stand-Up New York and Broadway Comedy Clubs.
Job Mixson is a Philadelphia based Comedian who is very personable on stage and draws his audience into his world without any bursts of profanity or graphic language. He started his comedy journey in Lancaster Pennsylvania about 20 years ago and has performed all over because of his reputation for clean Comedy.
Job has had the pleasure of sharing the stage with some of comedy's greats such as Joe Torry, Tony Roberts, Eddie Griffin, as well as Gospel greats William Murphy and Fred Hammond. Job has traveled the world as well as the states doing comedy. He was featured on Comcast Cable, Fox as well as 2 successful appearances on Showtime at the Apollo.
Also on the show is a special guest Host and MC.
You never know who is going to show up to do a guest set and work out new material. The Comedy Works Bristol is the perfect place for Stand-up Comedy with over 40 years of history in the Philadelphia area. Unlike many of the Comedy Clubs in the area, we feature great Comedy with NO drink minimums, FREE Parking and tableside wait staff service.
Tickets are limited and seating is still socially distanced to keep our audience, performers and staff safe. The doors will be open at 7:15 PM with great food (small plate fare) or drinks available before or during the show at reasonable prices. (additional cost)
Tickets for this special night of Comedy can be pre-purchased ONLINE for $35 for one ticket that admits 2 people. Tickets are $20.00 for each person at the door. 215-741-1661.