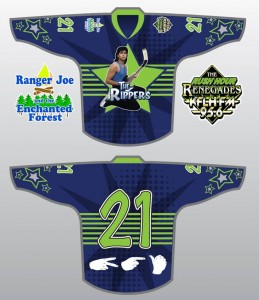 A Bucks County-based adult hockey league team is competing in the finals of the US/Canada Beer League Jersey Challenge.
The Rippers, which are representing Bucks County in the competition, are hoping local residents vote for their jersey entry in the US/Canada Beer League Jersey Challenge before the deadline of 2 p.m. Friday.
From The Rippers:
The Challenge, sponsored by the national Beer League Talk podcast and LAGA Sports, featured 64 teams from all over the US and Canada, with the Rippers representing Bucks County, PA. Each team had to submit a jersey design that would represent them in the field of 64. Voting for the jersey designs then took place on Instagram the last several weeks with the Rippers advancing all the way to the Finals.

Everyone can support Bucks County's Rippers by voting for them in the Finals until 2:00 pm on Friday, April 1 on Instagram here: https://www.instagram.com/p/BDlcUVzuLO0/

If the Rippers win the challenge they will be awarded a team set of their submitted jersey design from LAGA Sportswear worth $1,500.

The Rippers, who are humorously named after the Full House television show character Jesse Katsopolis' band (Jesse and the Rippers), designed a jersey that features Jesse (John Stamos) on hockey skates jamming on a guitar that turns into a hockey stick. There are several other references to Full House included on the jersey.
The Rippers received national attention with their original John Stamos/Uncle Jesse themed jersey two years ago after a player posted a picture on Reddit. From there the photo went viral and was picked up by FOX 29's Good Day Philadelphia as well as ESPN, TSN of Canada and Barstool Sports. John Stamos himself even acknowledged the jersey on Twitter by re-tweeting to his followers.
The team plays at the Grundy Arena in Bristol.