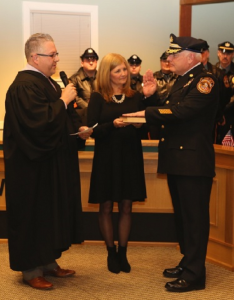 The meeting hall at the Newtown Township Municipal Building was packed with police officers from the township and beyond Wednesday evening.
New Chief of Police John Hearn was sworn in by District Judge Mick Petrucci with his family, friends, and fellow law enforcers surrounding him.
"This has been a lifelong dream of mine since I was a little kid chasing police cars down the street," Hearn said.
"Throughout his 30 year career with the City of Philadelphia, Mr. Hearn has demonstrated a well-known passion for protecting and serving the communities he was assigned. He has an undisputed talent as a police officer and commander," said Phil Calabro, chairman of the board.
Hearn takes over the 31-officer police department from Lt. Jason Harris, who has been leading the agency since summer in an interim capacity.
Hearn thanked Harris for his leadership of the department.
Officers from a number of departments, including Newtown Borough, Northampton, Philadelphia, Langhorne Borough, and SEPTA, were in attendance for Hearn's ceremony.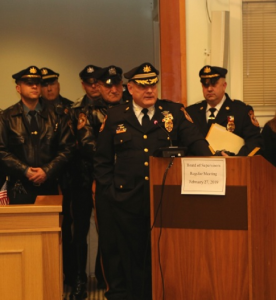 Before recently retiring in the city, Hearn led the 14th District of the Philadelphia Police Department and previously was a member of the specialized Highway Patrol unit. According to his online resume, he also served as a firefighter and president of the Elkins Park Fire Company in Montgomery County and in an emergency management role in Cheltenham. He is a graduate of the FBI National Academy.
Former Newtown Township police Chief Rick Pasqualini retired on July 1, 2018 after initially announcing he would leave the township at the end of the year.