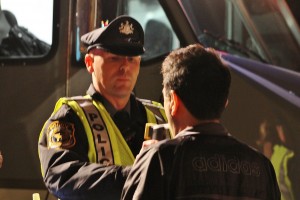 Officers from Newtown Borough and Newtown Township will be assisting with a DUI checkpoint over the St. Patrick's Day weekend.
The officers will join with peers from the Bensalem, New Britain Township, Middletown, Northampton, Penndel, Perkasie Borough, Upper Southampton, Warrington, Warwick and the Pennsylvania State Police to conduct the DUI checkpoint in both directions along Route 611 in Warrington. The checkpoint will operated from 10 p.m. Saturday until 3 a.m. Sunday.
"St. Patrick's Day is a great time to celebrate with friends. But no one should press their luck by drinking or doing drugs and driving, Irish or not," said Bucks County District Attorney Matt Weintraub. "Plan ahead to get home safely."
PennDOT data shows there were 140 alcohol-related crashes and four fatalities in Pennsylvania on St. Patrick's Day between 2014 and 2018.
The checkpoint is funded by the a PennDOT grant, the district attorney's office said.