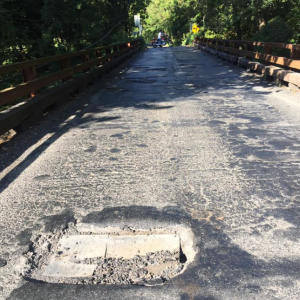 PennDOT has a proposal to replace the bridge that carries Worthington Mill Road over the Neshaminy Creek.
PennDOT will host a meeting Wednesday at 7 p.m. at the Northampton Township Building at 55 Township Road in Richboro. The township noted in an announcement that PennDOT will present a plan to construct a new bridge to connect Wrightstown and Northampton.
PennDOT officials will be available at the meeting to answer questions on the project. 
The bridge has been listed as being in "poor" condition, according to PennDOT.
The single-lane bridge is 245-feet-long and 16-feet-wide. It was constructed in 1954 and carries an average of 2,488 vehicles per day, according to PennDOT data.
PennDOT has floated ideas about replacing the bridge over the years, but those plans never moved forward. The span is often marked with potholes.