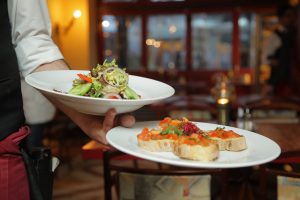 Dozens of Bucks County eateries are taking part in the second annual Visit Bucks County Restaurant Week.
The celebration of Bucks County's established and growing culinary scene will allow locals and visitors to taste dishes at discounted prices. Organizers said the more than 65 restaurants, pubs, and bistros taking part are spread across 20 different towns, including many in Lower Bucks County.
Diners who take part can visit their choice eateries between Sunday, April 28 and Saturday, May 4. Restaurants taking part will offer three-course, prix fixe dinner menus featuring signature dishes, and delectable desserts for guests to enjoy at a special rate of $25 or $35 per person.
Organizers said that reservations are "strongly encouraged." Visit Bucks County has set up an official Visit Bucks County Restaurant Week OpenTable page to help.
This year's celebration of Bucks County-cooked food has a charity component. Certain eateries will be donating a portion of their proceeds from Visit Bucks County Restaurant Week to the United Way of Bucks County's Bucks Knocks Out Hunger (BKO Hunger) drive, which is aimed at eliminating food insecurity and increasing access to nutritious foods for low-income children, families, and seniors in the county.
The United Way of Bucks County noted that roughly 1 in 11 Bucks Countians and 16 percent of all kids are food insecure.
$25 Menus
BUTTONWOOD GRILL, Route 202 & Street Road, Peddler's Village, Lahaska
BLU MEDITERRANEAN GRILL (BYOB), 54 East State Street, Doylestown – MENU
CAFE CON LECHE (BYOB), 16 South State Road, Newtown – MENU
CASA TORO MEXICAN GRILL, 4969 West Swamp Road, Doylestown – MENU
CHEESE DAWGS (BYOB), 318 Bustleton Pike, Feasterville Trevose – MENU
CONTINENTAL TAVERN, 2 North Main Street, Yardley – MENU
COSMOS RESTAURANT & BAR, 980 Trenton Road, Fairless Hills – MENU
DELORENZO'S TOMATO PIES (BYOB), 1707 Langhorne Yardley Road, Yardley
DUBLIN TOWNE DINER (BYOB), 133 North Main Street, Dublin – MENU
THE DUBLINER ON THE DELAWARE, 34 North Main Street, New Hope – MENU
EMPANADA MAMA, 21 Donaldson Street, Doylestown – MENU
GERONIMO BREWING AT LILLY'S JURY ROOM, 1 West Court Street, Doylestown – MENU
GOLDEN EAGLE DINER & RESTAURANT, 300 Bath Road & Route 13, Bristol – MENU
GREENHOUSE NEW HOPE, 90 South Main Street, New Hope
ISAAC NEWTON'S, 18 South State Road, Newtown – MENU
ITRI WOOD FIRED (BYOB), 310 Mill Street, Bristol
KUNG FU RESTAURANT (BYOB), 33 North Main Street, Doylestown – MENU
LE LO LAI PUERTO RICAN BAKERY, 1460 Brownsville Road, Feasterville – MENU
LUBERTOS BRICK OVEN PIZZA & TRATTORIA (BYOB), 169 North Main Street, Dublin
LUMBERVILLE GENERAL STORE, 3741 River Road, Route 32, Lumberville – MENU
MARTINE'S RIVERHOUSE RESTAURANT, 14 East Ferry Street, New Hope – MENU
QUINOA PERUVIAN & MEXICAN RESTAURANT (BYOB), 54 East State Street, Doylestown
SIAM CUISINE THAI RESTAURANT, 4950 York Road, Route 202, Buckingham – MENU
SOFIABELLA (BYOB), 2216 Street Road, Bensalem – MENU
THYME, 101 South State Road, Newtown – MENU
VINCE'S PIZZA & RESTAURANT, 25 South Main Street, Yardley – MENU
$35 Menus
ATRIUM BISTRO, 2400 Old Lincoln Highway, Trevose – MENU
BACCO BISTRO & PIZZA (BYOB), 478 North Main Street, Doylestown – MENU
BELLA TORI AT THE MANSION, 321 South Bellevue Avenue, Langhorne – MENU
BLACK BASS HOTEL & RESTAURANT, 3774 River Road, Lumberville – MENU
BOCELLI'S DOYLESTOWN (BYOB), 33 North Main Street, Doylestown – MENU
THE BUCKS PUB, 2600 York Road, Jamison – MENU
CALEB'S AMERICAN KITCHEN(BYOB), 5738 Route 202, Lahaska – MENU
CANAL STREET GRILLE (BYOB), 27 East Afton Avenue, Yardley – MENU
CARRABBA'S, 3210 Tillman Drive, Bensalem – MENU
CARLUCCI'S GRILL YARDLEY (BYOB), 1633 Big Oak Road, Yardley – MENU
THE CARVERSVILLE INN, 6205 Fleecydale Road, Carversville – MENU
CASCADE THE RESTAURANT, 5065 Lehnenberg Road, Kintnersville – MENU
CENTRE BRIDGE INN, 2998 River Road, New Hope – MENU
CHAMBERS 19 BISTRO & BAR, 19 North Main Street, Doylestown – MENU
CHRISTINE'S RESTAURANT (BYOB), 385 Oxford Valley Road, Yardley – MENU
COCK 'N BULL, Routes 202 & 263, Lahaska – MENU
THE DECK AT THE BUCKS COUNTY PLAYHOUSE, 70 South Main Street, New Hope
DOMANI STAR (BYOB), 57 West State Street. Doylestown – MENU
EARL'S NEW AMERICAN, 2400 Street Road, Lahaska – MENU
FLORENTINO'S (BYOB), 18 South State Street, Newtown – MENU
FRANCISCO'S ON THE RIVER (BYOB), 1251 River Road, Washington Crossing – MENU
GENEVIEVE'S KITCHEN (BYOB), 19 East State Street, Doylestown – MENU
THE GREY STONE FINE FOOD & SPIRITS, 552 Washington Crossing Road, Newtown – MENU
HARVEST SEASONAL GRILL & WINE BAR, 2865 South Eagle Road, Newtown – MENU
THE HATTERY STOVE & STILL, 18 West State Road, Doylestown – MENU
HISTORIC KING GEORGE II INN, 102 Radcliffe Street, Bristol – MENU
IL MELOGRANO RISTORANTE ITALIANO (BYOB), 73 Old Dublin Pike, Doylestown – MENU
KC PRIME RESTAURANT STEAKHOUSE, 1580 Easton Road, Warrington – MENU
LE LO LAI PUERTO RICAN BAKERY, 1460 Brownsville Road, Feasterville – MENU
MARTINE'S RIVERHOUSE RESTAURANT, 14 East Ferry Street, New Hope – MENU
MCCOOLE'S AT THE HISTORIC RED LION INN, 4 South Main Street, Quakertown – MENU
MIKE'S YORK STREET BAR & GRILL, 544 York Road, Warminster – MENU
M.O.M.'S: MAXWELL'S ON MAIN, 37 North Main Street, Doylestown – MENU
PICCOLO TRATTORIA DOYLESTOWN, 1745 South Easton Road, Doylestown – MENU
PICCOLO TRATTORIA NEWTOWN, 32 West Road, Newtown – MENU
RIEGELSVILLE INN RESTAURANT & PUB, 10-12 Delaware Road, Riegelsville
SPINNERSTOWN HOTEL RESTAURANT & TAP ROOM, 2195 Spinnerstown Road, Quakertown – MENU
STEAM, 606 Second Street Pike, Southampton – MENU
TAPAS ON YORK (BYOB), 2244 York Road, Jamison – MENU
THE TEMPERANCE HOUSE, 5 South State Road, Newtown – MENU
THYME, 101 South State Road, Newtown – MENU
TONY'S PLACE BAR & GRILL, 1297 Greeley Avenue, Ivyland
TOSCANA 52 FIRE GRILL & BAR, 4603 East Street Road, Feasterville Trevose – MENU
UNO NESHAMINY, 801 Neshaminy Mall, Bensalem – MENU
VILLAGGIO CUCINA, 5861 Lower York Road, Lahaska – MENU
VELA, 140 Veterans Lane, Doylestown
WASHINGTON CROSSING INN, 1295 General Washington Memorial Blvd., Washington Crossing – MENU
WASHINGTON HOUSE HOTEL & RESTAURANT, 136 North Main Street, Sellersville – MENU
WATER WHEEL TAVERN, 4424 Old Easton Road, Doylestown – MENU
YARDLEY INN RESTAURANT & BAR, 82 East Afton Avenue, Yardley – MENU