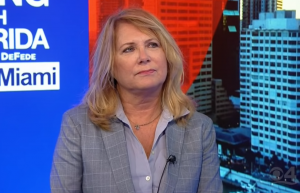 The journalist whose bombshell reporting on sexual predator and billionaire financier Jeffrey Epstein shed new light on allegations he molested and trafficked teenage girls has Bucks County ties.
Miami Herald investigative reporter Julie Knipe Brown, whose "Perversion of Justice" story drew widespread attention last November, worked at the Bucks County Courier Times from 1990 to 1996 and later the Philadelphia Daily News from 1996 until she moved to the Miami area in 2005. In her resume, Brown stated she covered education and breaking news while also working on investigative stories at the local newspaper.
Brown's reporting highlighted the late 2000s federal case where Epstein was accused creating a system using recruiters to assemble a group of underage girls used for sex acts at his mansion in Palm Beach, Florida. Despite the serious offenses, the case quickly moved through the office of the U.S. Attorney for the Southern District of Florida, which was then led by Alexander Acosta, the current U.S. secretary of labor. Epstein, who was represented by high-powered attorneys, was offered a sweetheart plea deal that avoided the most serious offenses, leading to charges of solicitation of prostitution and procurement of minors for prostitution. The billionaire ended up spending 13 months in a local prison with liberal work release privileges.
Award-winning reporting and follow ups on the case from Brown made a splash when they were released. Epstein's connections to President Donald Trump, former President Bill Clinton, executives, and foreign princes have drawn additional attention to the case.
Attention on the case again blew up on Saturday when The Daily Beast broke news that federal law enforcement from New York arrested Epstein. It was revealed by prosecutors on Monday that he was nabbed at a New Jersey airport after returning from Paris on new allegations of sex trafficking and creating a network of underage victims that he would sexually exploit in New York City and Florida. FBI special agents and members of the New York Police Department executed a search warrant at his Manhattan home that turned up what appeared to be nude images of minors.
On Monday, CBS news legal analyst Rikki Klieman called Brown's reporting on the case "tenacious."
Federal prosecutors and law enforcement officials from the Southern District of New York on Monday did not release whether they were investigating Epstein before Brown's "Perversion of Justice" series.
"We were assisted by some excellent investigative journalism," U.S. Attorney for the Southern District of New York Geoffrey Berman said during his Monday press conference.
Brown said during a Sunday interview with MSNBC that she felt "a lot of pressure" while reporting on Epstein's crimes and additional allegations.
"What I tried to do, since the story ran and got all that attention, was to keep hounding away at the story. I didn't give up on it. You know, it's sometimes easy to walk away and just let things happen. But I just felt that I had to keep pursuing it, and not let the powers-that-be, so to speak, the law enforcement people, the people in government, forget that these women were out there. And they're talking and they want to tell their story and they want justice," she told CNN.