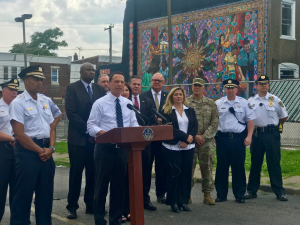 A massive investigation that involved more than 200 members of local, state, and federal law enforcement has hit an alleged drug trafficking organization that had its tentacles across the region, including in Bucks County.
Standing on a street in Philadelphia's Kensington neighborhood with members of a number of law enforcement agencies, Pennsylvania Attorney General Josh Shapiro announced that a Tuesday morning operation led to the arrest of 14 people and collected six kilos of heroin and fentanyl, two kilos of cocaine, five handguns, one rifle, $200,000 in cash, a kilo press, scales, and packaging equipment.
"To put that into some perspective for you, that includes 198,000 doses of heroin and fentanyl," Shapiro told reporters.
The drug ring, which operated out of Kensington, was watched by authorities for the past three months using wiretaps and other means. Authorities said the group had alleged ties stretching as far as Allentown to the north and Bucks County to the east.
On Tuesday morning, dozens of law enforcement members conducted a number of synchronized operations to make arrests, recover illicit drugs, and executed 20 search warrants in Philadelphia and the suburbs. Shapiro said there were operations carried out in the central and lower portions of Bucks County, but he declined to offer more details.
Lower Bucks County, which is only a few minutes drive from Kensington, is closely tied to the city drug market. Law enforcement and politicians have noted for years that many drugs recovered in the county can be traced to the city and drug users often take the short trip for their fix.
In February during a tour of Kensington's drug neighborhoods, Issac Caraway, the regional director of the Pennsylvania Attorney General's Office's Bureau of Narcotics Investigations, explained that the investigations that take place on the streets of Kensington often lead to Bucks County.
On Tuesday, Philadelphia Police Commissioner Richard Ross called Kensington the "epicenter" of the region's drug crisis.
Shapiro and Ross reminded the public that Kensington is a neighborhood where families live and their operation on Tuesday was partly focused on making their neighborhood better.
"Kensington is a neighborhood ravaged by the heroin, opioid, and fentanyl epidemic, and criminal organizations such as the one we shut down today are fueling the crisis," Shapiro said. "While the ringleaders were jetting off to Hollywood award shows and expensive restaurants, they were also ravaging the lives of those in our community. I'm grateful for the hard work of our law enforcement partners in the Kensington Initiative to shut down this dangerous organization and make our streets safer for the families, children, and seniors who live there."
While young people were recruited to sell drugs, one of the leaders of the drug ring lived the good live, often traveling to New York City, the attorney general noted.
"These were school kids," Shapiro said of some of the street-level dealers who were recruited. "They were pushed to sell drugs on our streets."
"We've given them the chance to have another shot," he added.
The investigation involved law enforcement from Bucks County, Lancaster County, Montgomery County, Philadelphia, the Pennsylvania Attorney General's Office, FBI, U.S. Department of Homeland Security, Drug Enforcement Administration, U.S. Postal Inspectors, and Pennsylvania National Guard.