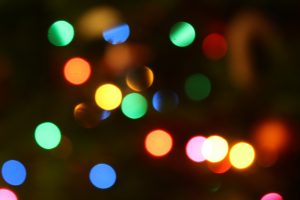 Christine Moucheyde and her teenage daughter moved from Philadelphia to Lower Bucks County last year. A lease was signed on a new apartment and things were moving along.
Then, Moucheyde, who was working full-time as a home health aide, lost her job after her client passed away. She was locked in the lease and money became tight as the holidays were approaching and her part-time job wasn't cutting it.
"I honestly didn't know what to do," she said.
She became concerned that she wouldn't be able to afford a Christmas gift for her teenage daughter, a straight-A student who always worked hard.
"It's the worst thing in the world. I just want to cry just talking about," she said. "Imagine how bad I would feel if I woke up on Christmas and didn't have anything for my daughter."
Moucheyde ended up seeking some help with the holiday season fast approaching.
The local mom ended up finding out about the United Way of Bucks County's Holiday Gift Card Drive, which provides holiday gift cards to older kids and teens who have aged out of toy drives.
"Everything is geared to younger kids, and then I came across the article about the gift card drive and thought 'this is great,'" Moucheyde said.
Come Christmas, Moucheyde received a few gift cards from the United Way of Bucks County program.
To her pleasure, Moucheyde's daughter was thrilled with the gift cards.
Danielle Bush, who heads the United Way of Bucks County's Holiday Gift Card Drive, said Moucheyde's story is like that of many other families throughout the area.
"The Holiday Gift Card Drive helps kids and teens who would most likely be forgotten for the holidays," she said. "Many of these families – some are grandparents taking care of grandkids – are struggling to have their everyday needs met."
For Moucheyde, the program took away a lot of stress as she worked to get back on her feet.
"I didn't have to explain to my daughter that there might be less of a gift," she said. "It was rewarding to know that there was a program like this."
Bush explained that the Holiday Gift Card Drive has a goal of serving 1,200 older kids and teens throughout Bucks County this year. So far, donations are a bit behind as the December 18 deadline approaches.
As for the past several years, LevittownNow.com and NewtownPANow.com are supporting the Holiday Gift Card Drive. Readers from the publications have continued to step up to help make the holiday season bright for those in need.
"We need your help. Help make a teen or tweens' holiday season," Bush said.
There are three ways for members of the community to help with this project: go to www.uwbucks.org/giftcarddrive to make a donation online, mail a check to United Way of Bucks County, 413 Hood Blvd., Fairless Hills, PA, 19030 with "Gift Card Drive" on the memo line, and drop off gift cards at our office (see above for address." If you plan on donating in honor or in memory of someone special, you can do this online.