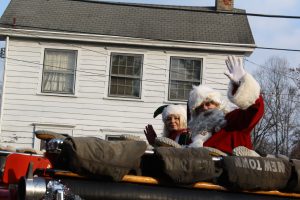 The Newtown Business Association's McCaffrey's Food Markets Newtown Holiday Parade will kick off Sunday at 2 p.m.
The parade will march from the Stocking Works on South State Street to Washington Avenue and makes a left turn and then turns right onto Sycamore Street where it will end at Durham Road.
Last year, the parade drew close to 2,000 people along the route and had over 50 groups participating, including local businesses, Mummers, first responders and local school kids.
The business association hands out awards for groups in the following judged categories: Most Unique Float, Most Festive Float, Best Overall Float, Most Creative Non-Float Vehicle, Best Holiday Spirit Non-Float Vehicle, Best Small Walking Group, Best Mid-Size Waling Group, Best Large Walking Group, Best Costume Mummers, Best Performance Mummers, and Best in Show.