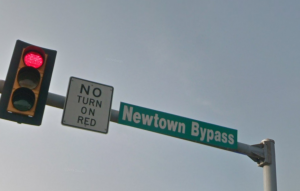 A Newtown Bypass crash left several people with injuries on Thursday.
Police, firefighters, and medics were called to the Newtown Bypass and Woodbourne Road/Penns Trail in Newtown Township near the border with Middletown around 11 a.m. for a multiple-vehicle crash that left one vehicle overturned. 
Newtown Township police said the one vehicle was turning from Woodbourne Road collided with another vehicle traveling on the Newtown Bypass, causing the second vehicle to overturn onto its side.
The driver of the overturned vehicle was able to free themselves and two backseat passengers were extricated by firefighters. The two passengers were taken to nearby St. Mary Medical Center with non-life-threatening injuries.
The driver of the first vehicle was taken to the hospital with chest pains.
The cause of the crash remains under investigation.