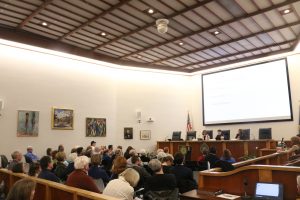 The three Democratic congressional candidates vying for the spring primary gathered in Doylestown on Saturday for a forum.
Candidates Dr. Christina Finello, of Ivyland; Debra Wachspress, of Lower Makefield; and Skylar Hurwitz, of New Hope, spent more than an hour taking questions from Democrats from around the First Congressional District at the event that was hosted at the Bucks County Administration Building in Doylestown Borough by groups Bucks Voices and Indivisible Lambertville/New Hope. Bucks County Prothonotary Judi Reiss was initially expected to take part, but she ended her campaign early last week.
Bonnie Chang, one of the organizers, introduced the event that had about 180 attendees, filling the room. She thanked the audience for "very substantive questions."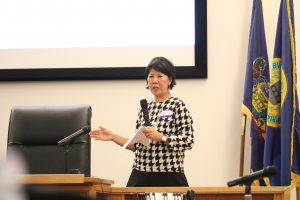 "This is for us to find the best candidate to win back the district," she told the room.
The three candidates in their opening and closing statements made their elevator pitches to voters.
Finello said she felt the core issue in the district that spans all of Bucks County and a portion of Montgomery County is economics and the impact on families.
"My approach will be the winning approach," she stated.
Hurwitz, the only millennial in the race, told voters, "we need to make this country work for us."
"I will stand up for regular people like you," Wachspress said.
The first question was about the Affordable Care Act, also known as Obamacare, and what the candidates would support fixing.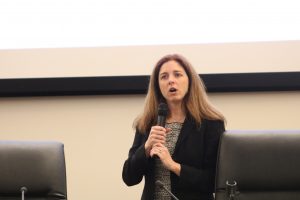 Finello, who recently left her job as deputy director of housing and human services for the county, said she would make sure protections are reinstated for those with preexisting conditions. She recalled that before the Affordable Care Act, an insurance switch left her worried because her pregnancy was considered a preexisting condition. She also stated she supported putting the country on a "path to true universal health care."
Hurwitz stated he supports expanding Medicare, a program that he said is already well liked. He also would look at ways to cut the cost of delivering health care services. Citing the time he lived in the Netherlands, he said he realized that a public option was not the best path for America.
Wachspress said she backs "bolstering" the Affordable Care Act and that no one should have to choose between a meal and medical care. She stated a story about her family losing health care coverage when her father lost his job while she was in high school. She stated she supports expanding Medicare and charging based on income.
The second question was on the national budget deficit and whether it matters. The Bipartisan Policy Center projects the 2020 deficit to exceed $1 trillion by the end of the 2020 fiscal year.
Finello and Wachspress both stated the budget was a major problem that needed to be tackled. They both worried it could risk the future of social safety net programs.
Finello said the national debt can have a big impact on the middle class.
"Yes, we need to be responsible about managing the budget," Hurwitz said.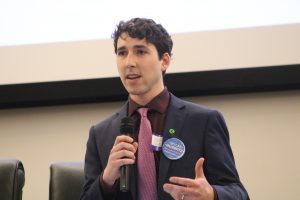 Hurwitz further stated that he is fine with the current debt and called it is an issue Republicans only care about when a Democrat is in office.
The third question asked the candidates for their thoughts immigration.
Wachspress said there was "no excuse" for the government taking a child from immigrant parents. She also called for making Dreamers citizens.
"This is the United State of America," she said. "We need an immigration policy that makes sense."
Finello called immigration the "basic fabric of which our country was founded." She added people coming to America to make a better life for their family has been "lost in all the noise." She stated the country should "end inhumane policies happening at our borders" and create a better path to citizenship.
Hurwitz said he supports Dreamers becoming citizens and improving the legal immigration process. He also challenged the audience to think of the reasons why immigrants are coming to America, including climate change, and work to tackle those issues.
The candidates were asked their perspective of the country on the international stage.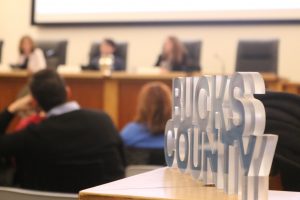 Finello advocated getting the country back as a leader around the world and improving relationships with allies and other nations. She said congressional oversight is important.
Hurwitz said America should look at building bridges and not resorting to armed conflict, citing the ongoing wars in the Middle East.
"We've lost a lot of respect in the world," he stated.
Wachspress said she thinks the country should stop fighting "prolonged wars" and needs to work better with partners. She said the country needs to become a leader on climate change, which could create jobs and the opportunity to work with other nations.
The three candidates were asked about their priorities on climate change.
Hurwitz said he wants to focus on "holistic approach," including improving agriculture, growing efforts to combat climate change, and introducing an electricity for all program that would create local, sustainable energy production that would pay for itself over time.
Wachspress called for paying more attention to renewable energy sources, retrofitting structures that are not efficient, and improving public transit. She said the focus on the climate would create good-paying jobs and reduce carbon emissions.
Finello said she would support investing in alternative energy sources, public transit, and clean water. She stated she would support a plan that would be good for the environment and residents.
The moderators asked the candidates what domestic issues kept them up at night.
Wachspress joked that she might need more time to answer the question. She cited the national political climate and said incumbent Republican Congressman Brian Fitzpatrick is "not moderate," adding his vote against impeachment showed that.
Finello, hearkening back to her opening, stated economic security is the biggest issue that keeps her up. She mentioned the worry her family had before her dad, who is now a district judge, earned a good-paying union job.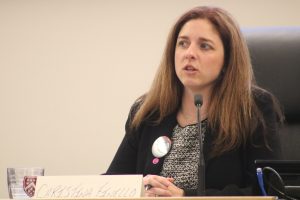 Hurwitz mentioned starting a family with his wife is among his chief concerns. He said student debt and home prices in the district are barriers for his young family. The climate crisis is another issue that worries him.
The candidates were asked how they would appeal to voters in a diverse district.
Finello touted her roots in Bucks County and work experience. She said she would keep the message that economy is important to voters across the district, which she said features people who share similar values.
Hurwitz said his focus while campaigning has not been on labels but on issues and challenges that draw people together.
Wachspress said all people want to be heard and she will do that. She further said she would focus on fighting discrimination.
Moderators asked the candidates about what committees they would ask to join if elected to Congress and the first piece of legislation they would introduce.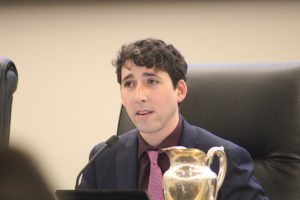 Hurwitz said he would want to be on the Energy and Commerce Committee and his first bill would introduce his electricity for all plan.
Wachspress said she would like to join the Energy and Commerce Committee. Her first legislation would focus on blocking dark money in politics.
Based on her experience, Finello stated she would ask to join the committee that oversee housing and human services and judiciary. Her first bill would be dealing with mental health and to bolster efforts to deal with substance abuse.
The candidates were asked their thoughts on mass surveillance.
All three said individual rights need to be taken into account.
Wachspress acknowledged the issue was not "black or white."
Hurwitz said the success rate for mass surveillance government surveillance is not high. He added that there was bipartisan support last year in Congress for renewing parts of the Patriot Act, a controversial law that gave the federal government expanded power in the name of national security. He supports banning facial recognition and reform of current security efforts.
The moderators asked if the candidates would support the eventual primary winner in the general election.
All three candidates agreed to support whomever one.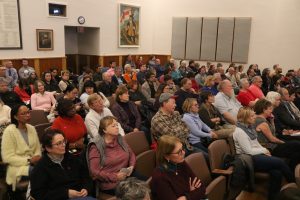 At the end of the event, the crowd was asked to give their thoughts on the Democratic presidential candidates by raising their hand. Former New York City Mayor Michael Bloomberg received zero votes and Andrew Yang received only a half-dozen or so. Former Vice President Joe Biden, South Bend (Indiana) Mayor Pete Buttigieg, and Sen. Amy Klobuchar received similar support. Sen. Bernie Sanders and Sen. Elizabeth Warren appeared to receive the most.
Editor's Note: A previous version of this article excluded Sen. Bernie Sanders from the vote count by mistake.