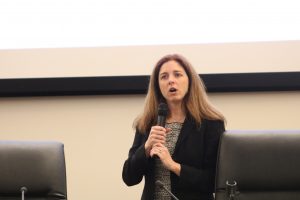 Members of the Bucks County Democratic Committee gathered on Saturday to vote on the candidate whom the group would endorse in upcoming primary election.
At Newtown Middle School in Newtown Township, the Democrats chose Dr. Christina Finello, of Ivyland, as the candidate with their backing in the upcoming First Congressional District primary in April. Finello is expected to face off against Debra Wachspress, of Lower Makefield, and Skylar Hurwitz, of New Hope.
The endorsement was made after Finello gained 69 percent of the vote on the first ballot. The party requires 60 percent for a candidate to earn the endorsement.
"I am proud, humbled, and honored to announce that today I received the endorsement of the Bucks County Democratic Committee on the first vote!! Its time to focus on Brian Fitzpatrick!" Finello's campaign posted on social media.
Finello received the endorse of the Montgomery County Democratic Committee last week.
Earning the endorsement of the county parties does not guarantee a primary win, but the support does certainly help, especially among three candidates who are not incumbents.
In recent weeks, Democratic sources indicated that Finello, who recently left her job as deputy director of housing and human services for the county to campaign, was most likely to win the endorsement.
Republicans also appeared confident in Finello's ability to gain the nods when they published a web page asking what her "progressive values" were.
Finello recently gained the endorsement of Bucks County Prothonotary Judi Reiss, who recently dropped out of the congressional race; a number of municipal party officials throughout the First Congressional District; and the Bucks County Young Democrats.
Leading up to the endorsement meeting, Wachspress announced former 2018 Democratic congressional candidates Steve Bacher, Rachel Reddick, and Scott Wallace endorsed her along with a number of local officials.
Wachspress, in the latest fundraising numbers, so far has outraised Finello throughout the election cycle. Wachpress raised more than $448,000, Finello earned just over $81,000, and Hurwitz gained $10,323.
In fall, sources in the Democratic party told this news organization that there was doubt any of the candidates running could beat incumbent Republican Brian Fitzpatrick, who has a primary challenge of his own, in the November election. National Democrats efforts to recruit Bucks County Commissioner Diane Ellis-Marseglia, a Middletown resident, and Bristol Township's Patrick Murphy, a military veteran who previously served as congressman and the undersecretary of the Army, were not successful.