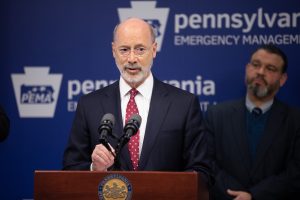 Gov. Tom Wolf extended the stay-at-home order for Bucks County through Thursday, June 4, his office announced late Thursday evening.
The order comes as 24 mostly rural counties prepare to move to the "yellow" phase of the state's reopening plan on Friday. In those 24 counties, some restrictions will be lifted.
All the counties in the Philadelphia region will remain under the stay-at-home order until Thursday, June 4.
On Friday, the governor's office expects to announce more counties that will move to the "yellow" phase. Sources with knowledge of the plan told LevittownNow.com that Bucks County is not expected to see restrictions lifted for weeks and will remain in the "red" phase.
The phases that were laid out by the governor's office:
Under the governor's proposal for reopening, Bucks County would have to reduce daily new recorded cases of COVID-19 to 50 per 100,000 residents. For the county, that means 320 new cases over a two week period. The plan also relies on contact tracking and the available of hospitals.
Bucks County officials and the Republican state delegation have asked the governor to give some "flexibility" to local leaders in regard to reopening.