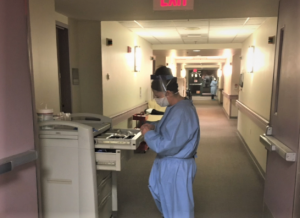 Pennsylvania health officials on Tuesday released facility-specific data on COVID-19 cases and deaths at licensed long-term care facilities across the state.
The release of data follows pressure from the public, some lawmakers, media outlets across the state, and advocates. NewtownPANow.com is among the news organizations that has sought the data for weeks.
In a spreadsheet released by the Pennsylvania Department of Health, the facility, its home county, number of resident cases, number of employee cases, and the count of deaths are listed.
Facilities with less than five of those data points have their information redacted, officials noted.
State and Bucks County officials previously declined to make the information public. The county made an exception for Neshaminy Manor, which is operated by the county.
According to the state data for Bucks County:
The highest number of COVID-19 deaths among residents were at Neshaminy Manor in Warrington with 39, Manor Care Oxford Valley in Lower Makefield with 29, and Crestview Nursing and Rehabilitation with 23.
The largest number of resident COVID-19 cases were reported at Crestview with 114, Beachwood Rehab in Middletown with 103, and Neshaminy Manor with 96.
Among the centers in the county, the highest number of employee COVID-19 cases were reported at Neshaminy Manor with 43, Beachwood with 34, and Juniper Village in Bensalem with 21.
Review or search all the data below:
In recent weeks, the county said the majority of recent COVID-19 deaths were of long-term care residents. New cases have largely been of residents or employees of those facilities. In addition, the majority of Bucks County's 85 licensed long-term care centers have reported COVID-19 outbreaks.
Spotlight PA reported that as of Tuesday 3,086 long-term care residents died, totaling more than 68 percent of COVID-19 deaths in the Keystone State.
Local long-term care workers and health officials have told this news organization that communal living facilities have been primed for COVID-19 outbreaks despite mitigation measures, like not allowing visitors, that many began implementing since early in the pandemic.
At facilities, staff come and go from the campus for their shifts, some staff work other facilities to supplement their income, residents are often in close contact with staff, common spaces are shared between staff and residents, and residents returning from hospitals are at risk of spreading the virus.
The USA Today Network reported earlier this month that the state health department allowed long-term care centers to keep admitting new patients during the pandemic. The guidelines allowed facilities to accept patients discharged from hospitals, including "stable patients who have had the COVID-19 virus."
Pennsylvania Health Secretary Dr. Rachel Levine said last week that the state would release names and data of long-term care facilities with case numbers and deaths. The move came after states like New Jersey and Maryland released similar data.
"Long-term care facility residents are among the most vulnerable Pennsylvanians, and we want their families to have the latest information on what is going on in the facilities in which their loved ones reside," Levine said on Tuesday. "COVID-19 is a particularly challenging situation for these settings as they care for residents with serious medical conditions. We will continue to work to ensure the safety and wellbeing of residents through education, resources and testing."
The state said people with complaints about a nursing home can make them anonymously by calling 1-800-254-5164, filling out the online complaint form, emailing c-ncomplai@pa.gov or sending the complaint in the mail to the department.