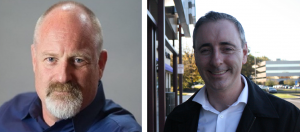 Republican incumbent Congressman Brian Fitzpatrick survived his primary challenge Tuesday, according to his campaign.
The incumbent's campaign declared victory over opponent Andrew Meehan Wednesday.
A full picture of the vote count was not clear as of Wednesday evening, but the Fitzpatrick campaign and the Associated Press appeared confidant enough to call the race in the incumbent's favor.
In early vote counts, Fitzpatrick and Meehan were separated by about 15 percentage points.
"I am honored that the amazing people of Pennsylvania's First Congressional District have once again placed their trust and faith in me and our campaign," Fitzpatrick said in a statement.
Fitzpatrick, who is in his second term, has worked to frame himself as an "independent voice," while Meehan campaigned as a diehard of President Donald Trump.
Meehan's campaign did not comment about Fitzpatrick declaring victory.
Fitzpatrick will face off against Democrat Christina Finello in November.
Editor's Note: Publisher/Editor Tom Sofield's father, Chris, is Meehan's campaign manager.