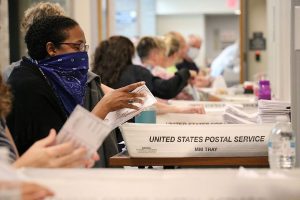 The counting of ballots by the Bucks County Board of Election has largely wrapped up.
Votes counted have been posted on the county's unofficial election results webpage.
Roughly 74,000 people voted in-person last Tuesday and 78,000 voted by mail, according to county estimates.
With the pandemic and mail-in voting expanded, the county saw more people vote by mail instead of in-person for the first time.
Based on data, the 2020 primary election saw only slightly less turnout than the 2016 primary election, which had 41.22 percent of voters case their ballots.
The county is still working to finalize the roughly 2,500 provisional ballots submitted. Many were filled out by voters who requested mail-in ballots but never received them, Bucks County Board of Election Director Thomas Freitag said.
For provisional ballots, county election workers cross checked the names to make sure no one was able to vote twice, Freitag said.
Between 100 and 150 military and overseas ballots still need to be tallied.
Nearly all in-person votes were counted by the end of primary election night.
Thanks to an emergency petition granted by a county judge on primary election day, 1,200 to 1,300 mail-in ballots postmarked by the day before the primary election but not received by 8 p.m. last Tuesday have been received and will be counted.
The vote count saw election workers starting last Tuesday morning at the county headquarters in Doylestown Borough opening mail-in ballots, preparing them for the voting system scanners, and running them through to tally votes from Tuesday's primary election.
Larry King, the county's spokesperson, said staff had worked on counting ballots and tallying results since mail-in ballots were able to start being processed last Tuesday morning. The staff, which included support from other county departments, started early and ended late in the days since the election.
In part due to COVID-19, Bucks County was flooded with requests for mail-in ballots.
Of the more than 102,000 mail-in ballots requested, 78,000 were returned, King said.
In comparison to the 78,000 ballots returned, Bucks County received about 6,000 ballots by mail in the last presidential primary in 2016. Until this year, there were stricter restriction on receiving mail-in absentee ballots.
With in-person voting, there were some problems with the size of some ballots on primary election day. That issue was due to a mistake by the vendor that printed them.
Last week, Bucks County Commissioner Gene DiGirolamo called for state lawmakers in Harrisburg to adjust some election rules to make things run smoother. He suggested that allowing for early counting of mail-in ballots could help speed the process up.
"We don't want to be the laughingstock of the country in Pennsylvania in a presidential election. It's very possible it might come down to Pennsylvania. If the whole country is waiting until Wednesday, Thursday, Friday, or later, that is completely unacceptable," he said.
At Tuesday's Board of Election meeting, DiGirolamo received approval for the county to set up a task force to formulate suggestions to the state help speed up the vote counting process.
Bucks County Commissioners Chairperson Diane Ellis-Marseglia supported the task force, which would include county officials and state lawmakers.
DiGirolamo said he expects a large amount of people wanting to vote in the November general election and he doesn't want counting to take a week. He noted the delay with results wasn't the fault of the elections staff.
During the Board of Election meeting, a member of the public offered the public comment that they felt the privacy shield where paper ballots were filled out was not sufficient.