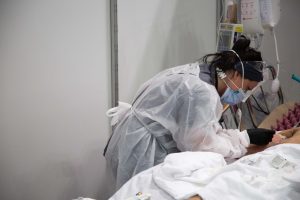 The night before Bucks County was slated to move into the "yellow" phase under the state's reopening plan, officials reported 15 new COVID-19 cases and 10 older cases that were not tallied until Thursday.
Of the 25 total cases, eight were residents of long-term care facilities, four infections were through household contacts, two were caught through community spread, one was spread in a healthcare setting, and 10 were unable to be reached immediately by contact tracers.
This was the second day that delayed tallies inflated the county's COVID-19 case numbers. The 10 older cases were confirmations of COVID-19 tests from Philadelphia that were of Bucks County residents.
Four new deaths of COVID-19 patients were reported. Two of the deaths were of long-term care residents and all had underlying conditions.
At 12:01 a.m. Friday, Bucks County moved from the "red" phase to the less-restrictive yellow phase.
"We're very happy about that; we've worked hard to get there," Dr. David Damsker, director of the Bucks County Health Department, said. He cautioned that despite the lowered numbers, it is still possible to catch the virus in the community.
"That's why it's so important to continue the masking and the social distancing we've been talking about," the county's top public health official said.
Damsker explained that he is under the impression that Bucks County is on the road to the "green" phase.
"If we can maintain our numbers where they are, or even a slight bump …. we should be able to move to green by the end of June," he said.
As of Thursday night, 108 residents were in local hospitals and 19 were on ventilators in critical condition.
Since the pandemic began locally in March, 4,906 confirmed cases have been reported, 469 Bucks Countians have died, and 1,832 have been confirmed to have recovered.