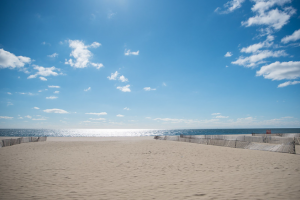 Of the 33 new cases of COVID-19 on Saturday, 11 of them were linked to a person who spread the novel virus through recent gatherings at the Jersey Shore, according to Bucks County officials.
The person who spread the virus, a New Jersey resident, attended multiple beach house parties at the shore recently, said Bucks County Health Department Director Dr. David Damsker.
As of Saturday evening, 11 new cases and one case reported on Friday in Bucks County were linked to the New Jersey resident, Damsker said.
The county's top public health official said he suspects there are more infections connected to the person and family members of those already infected.
"This is exactly why we can't let our guard down now, even if it feels `safe' to be at the beach," Damsker said. "One unlucky exposure can lead to a large cascade of cases down the line. We want everyone to enjoy the warmer weather and have fun, but let's keep in mind that COVID is still circulating in the community at baseline levels."
The new cases are a key example of why residents should take precautions when in public as COVID-19 mitigation measures are reduced, Damsker said, stressing that people wear face coverings when attending small gatherings involving people who are not members of the same household.
Of Saturday's 33 new cases, 19 were household contacts, including those from the New Jersey gatherings, three were residents or workers at long-term care centers, three were through community spread, two caught the virus at work, and one was linked with a health care setting. Five people were unable to be reached by contact trackers.
Four of the 33 new cases were delayed transfers. They were so old that they were no longer considered active infections.
A total of 97 Bucks Countians were in the hospital and 17 were in critical condition on ventilators.
Since the pandemic began, a total of 4,972 residents tested positive, 471 died, and 1,941 recovered.