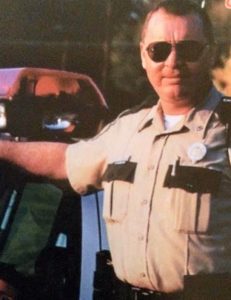 A longtime law enforcement officer who served the county for three decades passed away over the weekend.
Bucks County Ranger Thomas Booz, 64, died Saturday at St. Mary Medical Center after a weeks-long battle with COVID-19 and related complications. He had served the Bucks County Rangers, the law enforcement agency that patrols county-owned property and parkland, since 1988.
Booz was well-known for his dedication to the job and even lived in a house at Silver Lake Nature Center in Bristol Township for years. The longtime lawman was often seen working at county parks in the lower end of the county.
The Bucks County Rangers Benevolent Association released the following statement about Booz:
"Thomas Booz was a well-known public servant in the Bucks County Park System. With his wife Judy by his side, his entire life was dedicated to this career. For 25 of his 32 years with the County, he lived in the park at Silver Lake. Over the years he has saved lives in our community, prevented crises, rescued people from injury, arrested those who deserved it, ticketed those who showed no remorse in their actions, and always showed empathy to the less fortunate. Tom always wanted to give a warning, especially to those less fortunate than himself, but they definitely would never forget what they did wrong. Underneath the rough exterior he had a heart of gold. He knew the struggle because he had lived it. He did it all with no care for recognition because it was his job. He is loved by many and will be missed by all. Rest in peace brother."
Departments, including the county sheriff's office, Hulmeville Borough, Falls Township, Middletown Township, and Northampton Township, shared their condolences in the wake of Booz's passing.
"Our thoughts and prayers go out to the Booz family, his co-workers and friends during this difficult time. He will be missed by everyone who had the honor of knowing him," Bristol Township police said in a social media post.
"We were saddened this weekend to learn of the passing of Bucks County Park Ranger Thomas Booz. We will be keeping his family and the Rangers in our thoughts and prayers," the Bucks County District Attorney's Office said.
"We have lost somebody who has served the community faithfully for 32 years. With his passing we have lost a great deal of knowledge and experience that he brought to his work," said Steve Mawhinney, chief of the Bucks County Rangers.
"Ranger Booz has been an important fixture at our Bucks County parks for many years. He will be missed by his colleagues as well as the public; this is a mighty loss. Our thoughts and compassion go to his family and friends," Bucks County Commissioner Chairperson Diane Ellis-Marseglia said.
Glenn McPherson, a Middletown Township officer since the mid-1990s, recalled Booz as a social colleague who traveled all around the lower end of the county for work.
"He was one of those guys who would talk to guys from any jurisdiction … you know, some guys are pretty closed to people outside their agency, but not Tom. He had a good sense of humor and almost always had a smile on his face," he said.
Joseph Zuchero, a former ranger and current Doylestown Township officer, called Booz a "great person with a very kind heart."
"He loved his job and the community he served. The park system, most specifically the lower end parks, will never be the same without him. He was a character and had a great sense of humor," Zuchero said.
Following Booz's passing, his remains were transported by a motorcade of local police and Bucks County Rangers. With lights and sirens blaring, Booz's motorcade passed through Core Creek Park..
Officials have not released whether it has been determined if Booz caught the virus while at work. If the infection was caught at work, his passing might be considered a line of duty death.