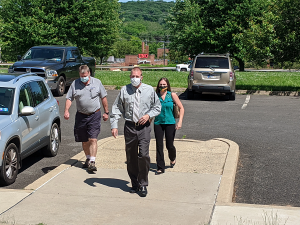 A former Bucks County Correctional Facility officer and several others are facing charges after they allegedly "peddled poison" in the center that is located in Doylestown Township, according to prosecutors.
Joseph J. Jennings, 31, of Warminster, was arraigned Monday afternoon before District Judge Mark Douple on charges of with corrupt organizations, possession with intent to deliver, criminal conspiracy, contraband involving a controlled substance, criminal use of a communication facility, and related offenses.
According to an 40-plus page affidavit of probable cause, Jennings acted as a "mule" while selling drugs to inmates at the county lockup. The case came together following an investigation by the Bucks County Department of Corrections and Bucks County Detectives.
Jennings worked at the Bucks County Correctional Facility from July 2014 to July 2019, according to public records. He was "locked out" of the prison in late July 2019. Jennings' attorney Louis Busico said his client was aware of the investigation since last summer.
Investigators alleged that Jennings, who went by the nickname "Leonidas," had brought Suboxone into the prison multiple times.
Jennings gained the nickname of Leonidas because inmates thought he looked like the character featured in the 2006 action flick "300."
Suboxone is an opioid often used for short period of times in drug recovery treatment.
One inmate wrote a note to a prison supervisor in 2018 that that Suboxone was being brought into the restrictive housing unit by a guard.
Detectives tracked funds linked through the sales that were sent through the Walmart store in Tullytown Borough, authorities said.
Vincent E. McCandless Sr., 35, of Huntingdon County, worked with Jennings to distribute the smuggled Suboxone to inmates that paid for, investigators said. He is facing charges related to the case and has yet to be arraigned as of Tuesday morning.
Joseph R. Wilson Jr., 40, of Philadelphia, who was known as "JoJo," is a former inmate who worked to set up deals on the outside. He has been charged and sent to the county prison on 10 percent of $500,000.
Investigators found an attorney that was involved in some of the financial maneuverings related to the case, but that lawyer was not identified or charged as of this week. Detectives noted in court papers they spoke with him.
Jennings reportedly made thousands of dollars off the operation. McCandless told a woman in a recorded phone call that Jennings made enough off the deals to go Disney World.
According to court papers, Jennings admitted to investigators that he smuggled Suboxone into the correctional facility. He said that he put the drugs into a balloon and then into his sock.
A number of inmates alleged to have been involved in the scheme tested positive for opioids. In some cases, unused Suboxone strips were located, authorities said.
Jennings reportedly told investigators his wife lost her job and he talked to her about smuggling Suboxone into the facility to make some extra cash. He noted that his wife was not aware he began smuggling the drugs.
During Jennings' preliminary arraignment on Monday, Bucks County Deputy District Attorney Kate Kohler said the former corrections officer may have had a drug problem. Jennings wife sat in the gallery while the statement was made and shook her head.
Busico, Jenning's attorney, told the court he "took issue" with the claim, noting his client works every day for a Bensalem repair company, is not violent, and hasn't fled despite knowing about the investigation since last summer.
Busico told NewtownPANow.com following the arraignment that his client maintains his innocence and the allegations made in court papers had yet to be proven accurate in a courtroom.
The district judge set Jennings' bail at 10 percent of $500,000, which the former corrections officer's father was able to post, according to a court docket.
Also charged in the case were Travis Davies, 32, of Schuylkill County; Richard E. Dzielinski, 40, of Philadelphia; Jonathan Benjamin King, 30, of Wilkes Barre; Joseph Herbert Korhan, 47, of Woodstown, New Jersey; and Robert Vincent Monacelli III, 28, of Dallas in Luzerne County.
Editor's Note: All individuals arrested or charged with a crime are presumed innocent until proven guilty. The story was compiled using information from police and public court documents.