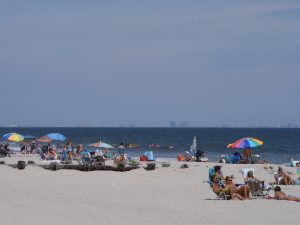 The impacts of a Memorial Day weekend gathering in Cape May County, New Jersey, continues to be watched by health authorities in two states as it was the point of origin for more than a dozen new COVID-19 cases.
The outbreak has been linked to the shore party and contact tracing is ongoing, according to the New Jersey Department of Health.
Bucks County Health Department officials said they are aware of 13 local cases linked to the party. Some of the cases were of family members of the patients who caught the virus down the shore.
The New Jersey Department of Health said in a statement that the party was made up of college-age people. All the reported cases have so far been mild.
"We are gathering information to understand who was initial source of exposure that caused the outbreak," said New Jersey Department of Health Epidemiologist Dr. Tina Tan.
Health officials in New Jersey noted that additional cases could be identified, but the incubation period for coronavirus caught at the shore party is at "the outer limit."
"This is exactly why we can't let our guard down now, even if it feels `safe' to be at the beach," Bucks County Health Department Director Dr. David Damsker said over the weekend. "One unlucky exposure can lead to a large cascade of cases down the line. We want everyone to enjoy the warmer weather and have fun, but let's keep in mind that COVID is still circulating in the community at baseline levels."
Damsker also stated people should wear face coverings when attending small gatherings involving people who are not members of the same household.