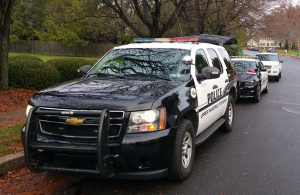 A 16-year-old boy will be charged after police allege he drove recklessly around a neighborhood. 
Upper Makefield police said they were called around 5 p.m. Wednesday for a speeding a reckless driver in the area of Jonathan Way and Jericho Run Drive. At least five callers provided a similar description of the vehicle and its driving habits. 
"The driver of the vehicle was stated to be speeding in a residential neighborhood and he almost struck another vehicle and caused several bicyclists and pedestrians to leave the street," police said.
In speaking with a witness, officers learned the registration information of the vehicle went to the nearby home that was connected. No one answered the door, police said. 
An officer at the home spotted the 16-year-old boy, whose name was not released, attempting to flee the residence on a bicycle through the backyard toward Delaware Canal State Park, police said. 
Officers stopped the teen. He admitted he did not having a driver's license and said he damaged two mailboxes in the 1200 block of Taylorsville Road, police said. 
Evidence recovered from the scenes showed mailboxes in the area were struck by the vehicle the teen drove, police said.
"This subject was able to be quickly identified and apprehended due to the numerous reports and cooperation from our residents.  Multiple residents waited for Officers and identified the vehicle and the registration plate as well as the driver.  Due to the awareness of the residents, the Upper Makefield Township Police were able prevent further incidents involving the driver and to maintain the safety of the community.  We thank everyone that reported this incident and we encourage residents to report any suspicious or unlawful activity.  With the cooperative relationship with the residents, we are able to maintain and enhance our commitment to community service and safety, police said. 
Authorities plan to charge the teen with unauthorized use of a motor vehicle, hit-and-run accident, driving without a license, careless driving, reckless driving, and driving at a safe speed.