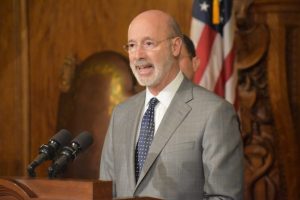 Don't believe everything you read online (except here, of course).
Gov. Tom Wolf won't be heading out of state for his daughter's wedding this weekend or on vacation. The viral rumors that have taken off over the past two weeks state Wolf is attending the wedding of one of his daughter's in Hawaii, or Florida. The location depends of which social media post you read or someone sends you.
Wolf's office confirmed Friday morning that he is not headed out of state for any weddings or vacations in the coming days.
A review of websites, social media, news articles, and public records database LexisNexis show a website advertising a Wolf family wedding in Hawaii this weekend doesn't appear to be connected to the governor. Both of the governor's daughters – Sarah and Katie – are already married and were well before the pandemic began.
Rumors about the governor preparing to head to vacation to Florida are also untrue, his office confirmed to LevittownNow.com.
The rumors come as Wolf faces criticism for his extended COVID-19 mitigation measures, which have significantly impacted the finances of residents and businesses. Wolf has defended his actions by pointing to the fact Pennsylvania is one of the few states seeing sustained COVID-19 case count drops.
Wolf has made few public appearances outside of statements made from his home in York County or the Pennsylvania Emergency Management Agency building near Harrisburg. He did draw criticism for breaking his own mitigation measures as he took part in a packed Black Lives Matter protest in the capital city. One of Wolf's few public trips outside of the midstate was to Philadelphia in early June following protest and civil unrest.
Wolf, a wealthy businessman, is in his second term as governor.