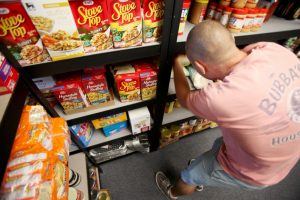 A global pandemic couldn't knock out one of the county's biggest hunger-fighting events.
The United Way of Bucks County was forced to change the annual Bucks Knocks Out Hunger (BKO Hunger) event from a mass meal-packing event to a county-wide nonperishable food drive and fundraising campaign due to the pandemic.
This year, BKO Hunger will have four contact-free drop-off sites for food donations on Saturday, June 20.
The United Way of Bucks County will be collecting non-perishable foods on Saturday, June 20 from 9 a.m. to noon at four locations in the county: YMCA of Bucks County in Doylestown, Bucks County Community College in Newtown, St Luke's University Health Network and Hospital in Quakertown, and the Neshaminy Mall in Bensalem.
To make sure the drop offs are contactless, food will be collected in the parking lots. Donors should place their food donations in boxes or bags in their trunks, drive to one of the locations, and volunteers will retrieve the donations remotely.
While the effort is gathering 25,000 pounds of food, funds raised by BKO Hunger will support partner organizations to harvest and deliver fresh local produce to food-relief sites, to purchase dairy products and eggs, and to support Fresh Connect, the free farmer's market for families in need.
For the first time, BKO Hunger will also support delivery of food to the homes of those who are food insecure and who are most vulnerable to COVID-19.
"Bucks Knocks Out Hunger is more important this year than ever, with so many more people out of work and struggling because of COVID-19. We know that many in our community want to help and supporting BKO Hunger is a perfect way for them to do that," said Tim Philpot, United Way of Bucks County's director for Financial Stability and Health.
Hunger and food insecurity are significant problems in Bucks County. Before the onset of COVID-19 about 8 percent of all Bucks County residents were considered food-insecure, including 12 percent of all children. Estimates are that food insecurity has more than doubled in the last two months in Bucks County because of COVID-19 related financial pressures. While some governmental resources are helping, there are still tremendous gaps.
BKO Hunger aimed to raise $100,000 and ended up netting $114,000. The United Way of Bucks County has set a new goal to raise at least $130,000.
This year's campaign was kicked off with a generous donation of $7,500 from Penn Community Bank. It also was the beneficiary of donations collected during Visit Bucks County's Restaurant Week in April. Other local sponsors include, Airline Hydraulics, Bucks County Community College, Charity Services, Comcast, First National Bank and Trust of Newtown, Michael Antolino Construction, New Jersey Manufacturers Insurance Company, (NJM), Parx Casino, PECO, Solvay, Suez Water & Process Technologies, and Saint Philip's Episcopal Church (New Hope). Gatehouse Media serves as the official "fight promoters" for BKO Hunger.
Donations can be made online at www.uwbucks.org/bkohunger, or by mailing a check to United Way of Bucks County, 413 Hood Boulevard, Fairless Hills, PA 19030,with "BKO Hunger" in the memo line.