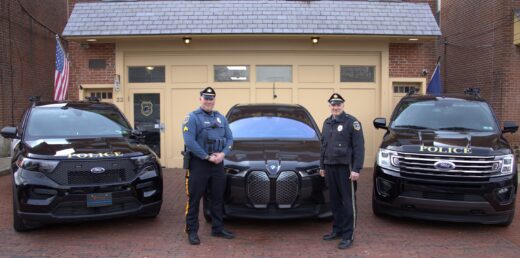 Newtown Borough police could one day be patrolling the streets of the .55-square-mile town with an electric vehicle.
Mayor John Burke recently said the borough has the "good fortune of testing an electric vehicle."
The borough's police department has been trying out and evaluating a 2022 BMW IX EV since the start of January. The vehicle has been on loan from BMW.
Sgt. Sean Orr, who has a degree in automotive technology and previously worked as a vehicle technician, has been evaluating the electric car. He compared the pros and cons of the vehicle and gathered feedback on it from officers.
The borough's current gas-powered fleet of two patrol vehicles is worn down by the hours each day that they sit, Orr said.
"The industry standard is an hour of idling is the equivalent to 33 to 35 miles traveled … On the average 12-hour shift, the car is probably idling anywhere from eight to 10 hours," Orr said.
The sergeant said the electric vehicle wouldn't be impacted by the same idling wear-and-tear that gas-powered vehicles see.
On the range of the vehicle, Orr said he drove recently from Newtown Borough to BMW's New Jersey offices. The BMW electric vehicle traveled 197 miles and still had 42 percent of its charge left when he returned.
The automotive technician-turned-lawman said officers would have enough charge with an electric vehicle to carry out their duties. He added that the borough might consider installing a charging station if an electric vehicle is acquired.
Presently, the borough's average patrol vehicle last about three-and-a-half years, Orr said, adding an electric vehicle has an eight-year battery life and has an engine rated for up to a million miles. However, he said a police vehicle won't run for a million miles, but the electric vehicle will last longer and have a lower maintenance cost than a gas-powered vehicle.
Orr said an electric vehicle would double the life of the police fleet, reduce greenhouse gases, cut energy costs, and would create a good buzz for the borough. He said the borough is spending about $18,000 this year for gas at their bulk rate, which is double what it cost two years ago.
Based on Orr's review and calculations, an electrical vehicle would have a potential yearly savings of $4,366 in energy costs.
Over eight years, Orr said an electric vehicle for patrol work could save the borough $145,000. Much of the savings would be achieved because the vehicle would last longer than the present fleet.
According to Orr's calculations, the borough would have spent $270,000 on gas-powered vehicles during that eight-year period.
When asked about how he fits in the BMW electric car, Orr said he is 6-foot-4 and he fits comfortably. He noted the Ford Mustang Mach-E, which is being rolled out for police work, is much smaller and he has trouble fitting.
If the borough were to acquire an electric vehicle, it is believed it would be the first all-electric patrol vehicle in Bucks or Montgomery counties, Orr said, adding some departments are using hybrid vehicles.
Officials said borough resident Joe Lovi helped the town get the BMW to test. He first suggested the idea last October when Newtown Borough Council was looking at purchasing a new vehicle.
Lovi talked with police and made the connection between the department and BMW.
Before Newtown Borough Council this month, Lovi said BMW may even been willing to install charging infrastructure if it is open to public use. He said the borough is likely attractive to them because the town is close to I-295 and other communities.
The borough isn't making any decisions on electric vehicles at the moment, but Orr's study will provide them with a local perspective for the future.