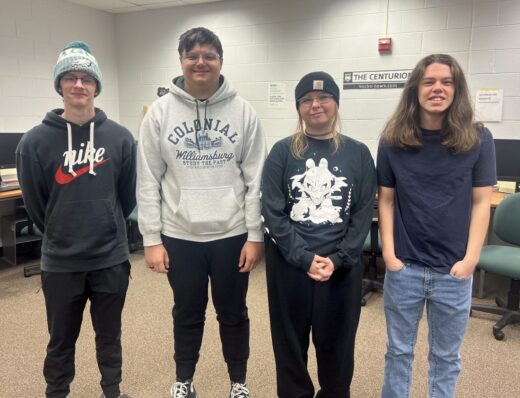 At the 2023 Keystone Media Awards competition, The Centurion, the student newspaper at Bucks County Community College, took home a record 18 awards in the statewide contest.
The Centurion is run entirely by community college students and won the awards, including first places in a wide range of categories like general and ongoing news, public service/enterprise journalism, diversity reporting, sports, and website, according to the community college.
The awards were for work done by student journalists in the 2022 spring and fall semesters at the community college, which has campuses in Bristol Township, Newtown Township, and Upper Bucks County.
"Throughout the pandemic Centurion editors have not only continued to publish the paper but done exceptional work even with fewer staffers and in difficult circumstances," said Tony Rogers said, the community college's journalism professor and faculty advisor to the newspaper. "These awards are a testament to their hard work and dedication."
The community college highlighted the below awards:
The Centurion swept the General News category with coverage of local reaction to the Supreme Court ruling on abortion, the midterm elections, and a visit by a racist preacher to the campus. The paper also swept the Ongoing News category with election coverage and articles about the college's emergence from the pandemic.
"Among other awards, the Centurion swept the Feature Story category with a profile of a Bucks County eatery, a look at the pressures faced by students who work long hours outside college, and the story of a Bucks professor who rebuilt her home after it was destroyed by Delaware River flooding.
"The paper also swept the Sports Story category and took firsts for its website, Layout and Design and Diversity Reporting. The Keystone contest is administered by the Pennsylvania NewsMedia Association. The Centurion competes in Division III, which includes two-year colleges from across the state.
"This year's competition for the first time featured a Sweepstakes Award given to colleges winning the most points in their respective divisions. The Centurion won the sweepstakes for Division III."
Since 2010, The Centurion has won more than 160 accolades from the Keystone Media Awards. It is among the most-recognized student newspapers in Pennsylvania.
The community college is always welcoming new journalism students. For more information on the program, visit www.bucks.edu/journalism or email tony.rogers@bucks.edu.
Below is a full list of awards winners:
General News
First Place
Overturning of Roe v. Wade Leaves Many Bucks County Women Feeling Betrayed
Karolina Matyka

Second Place
A Chaotic Tradition: Pastor Aden Revisits Bucks
Skylar Woodford

Honorable Mention
Pennsylvania Election Results Debunk Red Wave Narrative
Grace Levy

Ongoing News Coverage
Second Place
Election 2022
Grace Levy, Christian Grosso, Evan Anderson, Jenna Lowenthal

Public Service/Enterprise Package
First Place
Bucks builds back post‐pandemic
Lucas Darling, Timothy Hubing
Feature Story
First Place
From Four Lanes to the Hotel: Inside the Langhorne Borough's Eatery
James Bonnell
Second Place
Bucks Professor Rebuilds her Lambertville Home After Worst Flash Flood in Town's History
Hannah Boscola

Honorable Mention
Bucks Students Feel Pressures of Balancing School and Work
Hannah Boscola
Personality Profile
First Place
A Musical Journey in Allegro
Judith Russo
Honorable Mention
Sawdust, Skateboards and Passion: A Sloan Palder Story
James Bonnell
Sports Story
First Place
Bucks Men's Soccer Team Are ESAC Champions
Evan Anderson

Second Place
Phillies' Cinderella Run Falls Short of Storybook Ending
James Bonnell
Honorable Mention
Bucks Baseball Team Has Big Impact in Small College World Series
Mason Gross
Column
Second Place
New Policy Banning Over 400 Titles from School Shelves Spikes Outrage in the Community; White Mermaid? Black Mermaid? It's a Mermaid, People
Timothy Hubing
Layout and Design
First Place
Sawdust and Skateboards
Lucas Darling, Carmen Gisondi

Website
First Place
Lucas Darling, Max Mower
Excellence in Reporting on Diversity, Equity and
Inclusion
First Place
New Introduction to Queer Studies Course at Bucks; Governor Tom Wolf Bans LGBTQ+ Conversion Therapy in Pennsylvania for Minors; Disability Rights Advocate Haben
Girma: "The Biggest Barrier I Face is Ableism"
Parker DeStefano, Grace Levy, Aileen Gorman Leong, Hannah Boscola