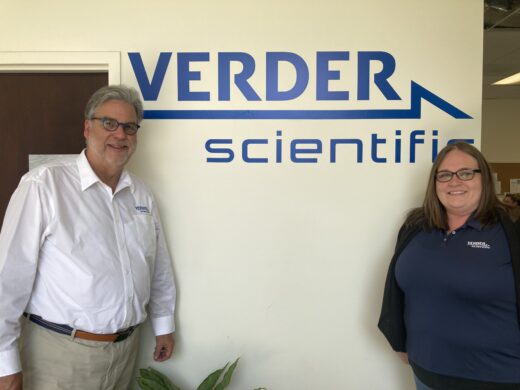 A thriving Newtown Township company eager to give back to the community is starting with a food drive.
People can bring non-perishable food items to the North American headquarters of Verder Scientific at 11 Penns Trail, Suite 300 from 7 a.m. to 6 p.m. June 12-17. Verder's partner on the drive, the Bucks County Housing Group, will then distribute the food to the homeless, children from families with food insecurity on summer vacation, and others in need.
Canned tuna, chicken, beans, boxes of pasta and powdered milk are among the many non-perishable food items people can donate. Also being collected are toiletries like paper towels and other items.
Georg Schick, president of Verder's Newtown Township location that was started in 2002, said Sales and Marketing Manager Erin Lorensini came up with the idea for a food drive after the two of them discussed several ways of making a positive impact on the world outside the company's doors.
"We've been here 22 years and are steadily growing," Schick said. "We're doing well, so it's really time to give something back to the community. Everyone from the company will be helping out. I think it will be good for our team, showing commitment to the community."
Using millions of dollars worth of sophisticated equipment, Verder's Newtown headquarters conducts heat treatment, elemental analysis, hardness testing, milling and sieving and particle characterization, among other processes that benefit the automotive, aerospace and other industries.
"We've grown from a handful of workers to 44 full-time employees here now," Schick said. "We started doing $2 million to $3 million a year and are now doing about $35 million a year in business out of this office. So, to share at least a little of the success we've had here with people in need is absolutely needed."
Lorensini agreed wholeheartedly with that thought.
"Kids who get their free breakfasts and lunches at school don't have that at the time of year we're doing the drive," she said. "And also, I don't think people realize how big food insecurity is around here. People think about it in cities but don't realize how much it affects the suburbs and surrounding communities. We have a lot of people in need here too."
In addition to helping people in need, Schick said he hopes increased exposure for the company is a secondary positive of the drive.
"It's going to be beneficial to the community and also beneficial for us," he said. "People coming here to drop off food will get the opportunity to get to know us a little better. It's amazing, sometimes we get candidates for job openings who live in the Newtown area and never knew about us."
Schick said the company frequently has job openings for people with backgrounds in chemical engineering, accounting, shipping and receiving and other areas and urged job seekers to consider Verder Scientific-Newtown.
He said the company has reached out to its business neighbors about contributing to the food drive, and there will be a weather protected area at the company for people to drop off items that week. For more information on the drive or Verder Scientific in general, call 866-473-8724, email info-us@verder-scientific.com or visit verder-scientific.com.