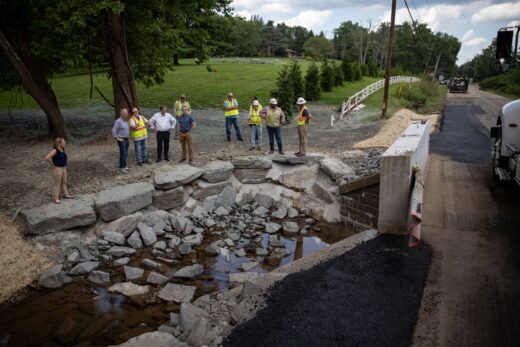 The last section of roadway closed because of the July 15 flash flood reopened Wednesday.
The section of Taylorsville Road between Mount Eyre Road and Woodside Road from the Upper Makefield Township border through Lower Makefield Township reopened this week after roadway, pipe, and bridge repairs were completed.
With the reopening, all four state roadway sections closed due to severe flash floods are open, and state officials said the reopenings happened ahead of schedule.
The roadways, which underwent extensive clean-up and repair activities, include Taylorsville Road, Washington Crossing Road (Route 532), and River Road (Route 32) in Lower Makefield and Upper Makefield townships.
State Sen. Steve Santarsiero and State Rep. Perry Warren, both Democrats, toured the repair sites on Monday with PennDOT Secretary Mike Carroll
Gov. Josh Shapiro's administration said in a statement officials will "cut through red tape and work as safely and efficiently as possible to get stuff done."
Shapiro visited the site shortly after the flooding.