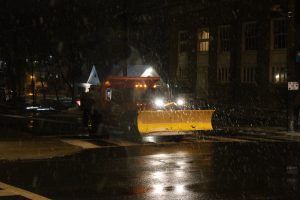 A shift in forecasting models has changed the weekend winter storm forecast to a mainly rain event.
According to the National Weather Service field office in New Jersey, the storm will start with snow, sleet, and freezing rain later Saturday afternoon and transition to heavy rain through Sunday. Snow totals forecasted for Lower Bucks County are between a dusting and 2 inches, a decrease from earlier predictions.
"The I-95 corridor isn't completely out of the woods yet in terms of winter weather hazards, especially from Mercer County (New Jersey) northward where temperatures will be very close to freezing for hours, but it is looking more likely that freezing rain should stay northwest of this area," forecasters said.
The region is additionally under a threat of urban and small stream flooding Saturday into Sunday due to the predicted heavy rainfall. Late Sunday and Monday there is a threat of possible river flooding.
As the rain and wind tapers off on Sunday, a rapid drop in temperatures will cause any slush or ponded water to freeze solid, leading to very icy conditions, forecasters said.
"As bad as the cold is, wind chills will be brutal with sub-zero readings in most areas and readings around -20 across the Poconos. Proper precautions against the cold will be required to be safely outdoors Monday," forecasters said.
In advance of the storm, Gov. Tom Wolf signed a disaster declaration for the state and PennDOT issued a commercial vehicle ban for noon Saturday to noon Sunday on all interstates and the Pennsylvania Turnpike, aside from I-95 in the Philadelphia region.
The declaration paves the way for the state to assist with emergencies in Pennsylvania and also the deployment of the Pennsylvania National Guard if needed.
While the Philadelphia region is expected to be spared the worst of the storm, PennDOT, the Pennsylvania Turnpike, the Pennsylvania Emergency Management Agency (PEMA), and the Pennsylvania State Police will be tracking the system and responding to any dangerous situations on roadways.
Officials urged residents to prepare a vehicle emergency kit with items such as non-perishable food, water, first-aid supplies, warm clothes, a blanket, cell phone charger and a small snow shovel. Motorists should tailor their kits to any specific needs that they or their families have such as baby supplies, extra medication, and pet supplies.
Starting at 8 a.m. Saturday, PEMA activated its emergency operations center that is staffed by the departments of Transportation, Conservation and Natural Resources, Environmental Protection, Fish and Boat Commission, Game Commission, General Services, Health, Public Utility Commission, Military and Veterans Affairs, Health, PA State Police, Human Services, Revenue, and PA Turnpike, as well as the American Red Cross and U.S. Civil Air Patrol.