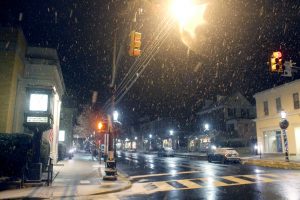 Winter weather is headed to Lower Bucks County.
Starting late Tuesday morning or early in the afternoon, rain is expected to overtake the area before temperatures begin to drop and the rain changes to snow. The snow will fall into the overnight and drop about 1 to 3 inches in the area, according to the National Weather Service.
Forecasters warn that the storm could cause some problems during the Tuesday evening commute.
After the storm, arctic air will overspread the region and it could be accompanied by scattered snow showers and snow squalls that could reduce visibilities on the road, forecasters said.
"Bitterly cold temperatures combined with gusty winds will produce dangerous wind chills below zero Wednesday night and Thursday. Coldest wind chills could drop below -20 degrees across the Poconos and northwest New Jersey. There will be a heightened risk for hypothermia and frostbite," forecasters said.
The very cold weather is expected to last into the weekend.
Bucks County officials said they were declaring a Code Blue that will begin at 7 p.m. Tuesday and end Sunday at 7 a.m. due to the expected cold.
As part of Code Blue, Woodside Church at 1667 Edgewood Road in Lower Makefield will operate as the Lower Bucks County emergency shelter for homeless adults starting at 9 p.m. Tuesday and running through Thursday. On Friday, Calvary Baptist Church at 250 Green Lane in Bristol Borough will open and serve those without shelter through Sunday morning.