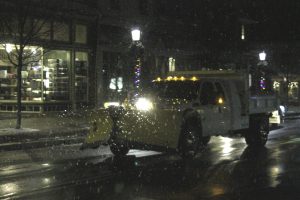 The workweek will begin with two bouts of winter weather.
Forecasters from the National Weather Service are expecting snow to spread over the area late Sunday night and come to a wrap by late Monday morning, dropping 1 to 2 inches of snow in Lower Bucks County.
The overnight snow is expected to "significantly impact" the Monday morning commute, forecasters said.
In advance of the storm, a Winter Weather Advisory has been issued for Lower Bucks County and road crews sprayed brine on many area roadways.
The second shot of winter weather will take place Monday afternoon through Tuesday night.
The area is expected to see precipitation start as snow or sleet late Monday afternoon or early in the evening and transition during the night from snow to a mix of sleet and freezing rain and then rain, forecasters said.
While the National Weather Service acknowledged the forecast was uncertain, they said Lower Bucks County could see 2 to 4 inches of snow and even warned of some possible tree damage and scattered power outages from potential ice accumulation.
Heavy rain that will fall Monday night through Tuesday could also cause some urban and small stream flooding.